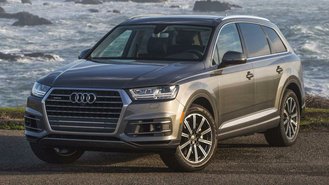 Automakers are getting better at developing infotainment systems that are less distracting and easier to use, but, as a report by the American Automobile Association found, the majority of manufacturers haven't cracked the code yet.
AAA called upon researchers at the University of Utah to conduct a study on how visually and mentally demanding modern infotainment systems are. Researchers took 30 new cars from 2017 and tasked individuals to do normal things that an infotainment system should be good at – sending a text, changing the radio station, or programming the navigation system to go to a new destination – while the cars were traveling at a speed of 25 miles per hour.
The study, as anyone that's used a modern infotainment system can attest, found that the majority of systems were incredibly distracting. According to AAA, 23 out of 30 systems were found to require "high or very high levels" of concentration from drivers. The remaining seven, while better, weren't exactly foolproof and created "moderate" levels of distraction. None of the vehicles the University of Utah tested were found to have a low level of distraction, which was the best score possible.
The most distracting aspect of infotainment systems, according to the association, included programming the navigation system. Attempting to program a new destination into the infotainment system distracted drivers for approximately 40 seconds. While that may not sound alarming, AAA claims that looking away from the road for just two seconds doubles the risk of an incident.
According to AAA, the Audi Q7, Tesla Model S, Mazda3 Touring, Ford Mustang GT, Nissan Armada, and Chrysler 300C had some of the most demanding systems, while the Chevrolet Equinox LT, Hyundai Santa Fe Sport, Toyota Corolla, and Ford F-250 XLT were rated as only moderately demanding. It seems odd that the Mustang and the F-250, which both use Ford's Sync3 infotainment system, were rated differently.
AAA believes that infotainment would be less distracting if automakers simply locked users out from using navigation, social media features, and the infotainment system's text function. That sounds like a smart idea, provided a passenger can override the lockout – perhaps link the lockout to the occupant classification system. Otherwise, drivers will need to pull over every time they want to do anything aside from change the radio station, even if someone is available to safely interact with the infotainment.