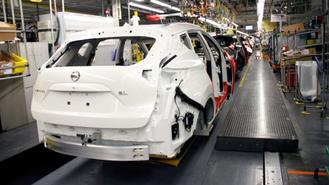 So far, the coronavirus has turned the automotive industry upside down. From automakers shutting down factories to car sales plummeting, the pandemic has had an immensely negative impact when it comes to automobiles. While saying cars sales are down for nearly every automaker in the industry in the U.S. paints a dismal picture, there's nothing like an interactive map to get a better look at how awful things are. Jalopnik found an interactive map that sales data company Foureyes put together that really illustrates how the coronavirus has affected states and automakers.
Foureyes' map gives visitors three ways to check out auto sales: by state, by date, and by OEM. The sales by state map is the one we find the one to be the most interesting because it gives you a broad snapshot at how sales fell throughout the nation. Additionally, hovering over a state also reveals which brands fared especially poorly.
Taking a look at new cars sales from March 16 (three days before California became the first state to issue a stay-at-home order) to April 20 compared to February 9 to March 15, the data reveals that average new car sales fell across the nation by 38%. During that timeframe, new car sales in Pennsylvania, New Jersey, New York, and Michigan all dropped by over 62%. Of those, Pennsylvania had the largest drop by 76%.
What's really nifty about this chart, though, is that it lets you see how individual automakers did. In Pennsylvania, Nissan and Toyota fared the worst, as new car sales from both of those brands fell by 82%. It's a different story in Michigan – where new car sells decreased by 66% during the timeframe – as Subaru had the largest decrease, seeing its sales fall by 75%. With so many different variables to choose from, the interactive map gives viewers a much clearer image of how auto sales in the U.S. were affected by the virus instead of just hard numbers.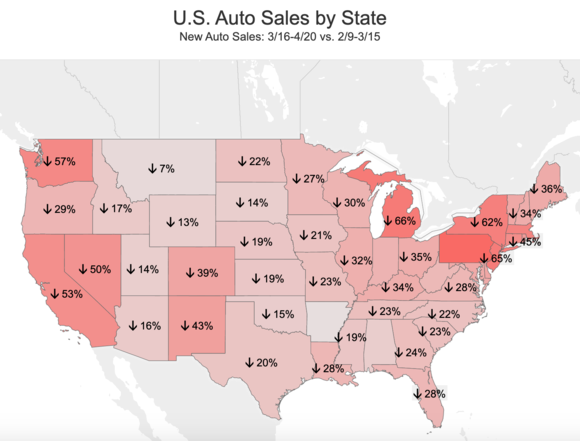 Looking at the sales by date chart, it's clear to see that new car sales in the U.S. were climbing steadily from February 10 to March 4. After that, car sales begin a sharp decline, aligning with the spread of the virus and when governors issued stay-at-home orders that led to dealerships' sales departments shutting down. After hitting a low point on April 15, new car sales jumped up slightly, but then fell again over the next five days.
There is some good news. If you look at sales data for the last few weeks of March (from the 13 to the 31) and compare them to the first 20 days of April, you'll see that new car sales rebounded slightly. The national average for new car sales was down 18% – an increase of 20%. Sales in multiple states like Nevada, Utah, Idaho, South Dakota, and Oklahoma were actually in the green.
Examining new car sales by automakers reveals how an individual fared during various dates. Using the same dates from the sales by state map, it looks like luxury brands took the largest hits. Across the nation, Jaguar Land Rover's sales fell by 57%, BMW's sales dropped by 55%, and Honda's new car sales decreased by 51%.
If you're interested in seeing how every state's individual shelter-in-place order affected new car sales, Foureyes also has another interactive map for that. Understandably, for the majority of states, once the order was put in place, new car sales tanked.
To collect the data used in the maps, Foureyes gathered information from 16,592 new car dealerships. Details on inventory, messaging, and pricing were cross-referenced with historical data and internal VIN analysis. For the context of the data, a "sale" occurred when a dealer removed the vehicle from its inventory, excluding dealer trades, recalls, and post processing for cars listed on more than one website. The company does not use sales data from an OEM for its charts, but does compare information using an OEM's data to ensure the figures are correct.