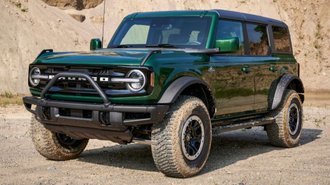 To stand out in a packed class, off-road vehicles now need to come with nifty features on top of serious off-roading components. All-electric startup Rivian was the first to show off a tank-turn feature in 2019 for its R1T pickup and R1S SUV. Toyota followed suit in 2020 with a patent for a similar feature in June 2020. Apparently, as Ford Authority found, Ford filed a patent for a similar tank-turn feature back in October 2020.
As its name implies, a tank-turn feature allows a vehicle to do a 360-degree turn in an incredibly tight space in a similar manner to a tank. This is done by having the wheels on one side of the vehicle turning forward, while the wheels on the other side are turning in reverse. While Rivian was the first to showcase the feature, it doesn't offer the feature on its cars yet. So, Toyota and Ford could be looking to be the first to bring a tank-turn feature to a production model.
In Ford's application that was published earlier this month, the automaker lays out a patent for what is called "Methods and apparatus to perform a tank turn." In the patent, Ford describes how its engineers have come up with a tank-turn feature on a vehicle with two electric motors.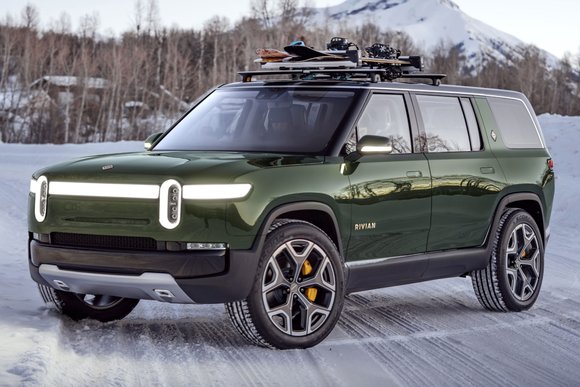 Ford's tank-turn feature differs from Rivian's in a few ways. For one, Ford's only includes two electric motors, while Rivian's has four. To make a tight clockwise turn, the left front tire on the Ford will rotate forward, while the right rear wheel rotates in the opposite direction. The other two wheels on the vehicle are holding the brakes. Air suspension will help reduce the suspension load on the turning wheels while the maneuver is being made.
According to the patent, the driver has to engage the tank-turn feature, while the vehicle needs to approve the engagement. This feature, much like Trail Turn Assist that's found on the Ford Bronco, is best suited for off-road surfaces. With the launch of the all-electric Ford F-150, we could see this feature on a high-performance version of the truck in the future, as brands start to explore EVs for off-roading.
See Ford's Lease Deals & Incentives
Pictured: 2022 Ford Bronco (Top), 2022 Rivian R1S (Middle)