The Ford F-Series line of pickup trucks is and has been the best-selling lineup of vehicles for many consecutive years. During the first quarter of 2021, Ford sold 203,797 units of its F-Series pickups. With the F-Series being so popular, it's pretty obvious that Ford will do everything it can to keep its pickup trucks on showroom floors. Unfortunately for Ford and consumers, the semiconductor shortage has resulted in the brand having to use massive parking lots to house thousands of unsellable pickups.
Pat and Mike Roeder took to Facebook to post a picture of thousands of new Ford F-Series pickups sitting, unused at a 30-acre lot at Kentucky Speedway. The picture is now going viral and is a clear image of what automakers are going through during this semi-conductor shortage. Speaking with WXYZ Detroit, Ford Spokeswoman Kelli Felker confirmed that new F-Series pickup trucks are sitting at Kentucky Speedway as they wait for parts to come in.
"Ford will build and hold these vehicles for a number of weeks, then ship the vehicles to dealers once the modules are available and comprehensive quality checks are complete," she stated.
A similar situation is unfolding in Detroit, as the Detroit Free Press claims that stockpiles of new F-Series trucks have also been spotted off of I-96 West in Detroit. According to drone images the outlet received, it looks like Ford has parked hundreds of new F-Series pickup trucks in a parking lot in the Department of Public Works rail yard.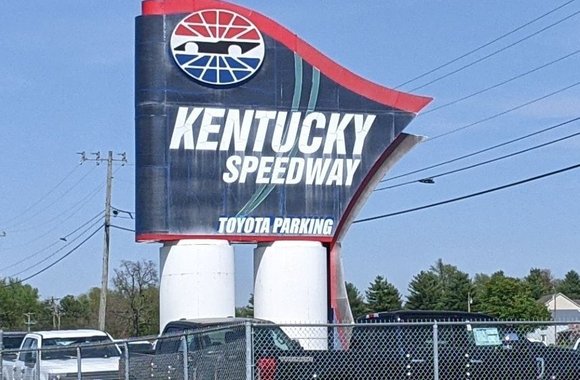 All of these pickup trucks are sitting because of the current chip shortage. Due to the COIVD-19 pandemic and the increase in popularity of electronic items, automakers are having a hard time getting their hands on semi-conductors to manufacture vehicles. While some brands, like General Motors, are choosing to idle a few plants, send workers home, or cut certain features out of vehicles, Ford has decided to continue to manufacture the F-Series line of trucks in high numbers and install the chips when they get them.
Ford's issues aren't unique. Every automaker is feeling the effect of the chip shortage in some way or another. This means that consumers are going to have a difficult time finding a new vehicle at a dealership. With new vehicles in short supply, dealerships are resorting to jacking up prices, requiring consumers to pay full MSRP for vehicles, and cutting new-car deals. Soon, buying a new car will be like trying to find toilet paper during the height of the pandemic. This is also affecting used vehicles, which have gone up in pricing, as well.
With the chip shortage expected to carry into 2022, high car prices and shortages will last until the end of the year. It's not just automakers, but everything from small to large companies in various fields are feeling the squeeze from the chip shortage, so this isn't an issue that will simply go away over time. It's also not as simple as opening new chip plants or boosting production. This shortage is here to stay, at least for the foreseeable future, and so are the absurdly high car prices and nonexistent inventory.