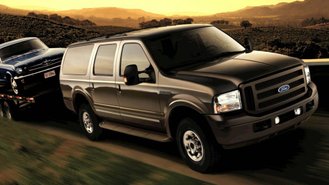 Resurrecting old nameplates has become a common thing for automakers. The Chevrolet Trailblazer is back, General Motors is resurrecting the Hummer nameplate with an electric pickup truck, Jeep is reportedly working on a new Grand Wagoneer, and the Ford Bronco's coming back. It's certainly an interesting time for consumers, as seeing these old names returning on shiny new models could bring back some flashbacks. Now, reports are coming in that Ford's getting ready to bring back another old name: Excursion.
First spotted by MotorTrend, Ford recently filed a trademark application with the United States Patent and Trademark Office for the Excursion name. The application wants to use the name for "Motor vehicles, namely, automobiles, pickup trucks, electric vehicles, sport utility vehicles, off-road vehicles, and their structural parts."
Unfortunately, before you get excited at the prospect of another hulking SUV with enough seats to ferry an entire baseball team around, it doesn't sound like Ford's actually preparing to introduce a vehicle with the Excursion name. Motor Authority reached out to Ford to get a scoop on what's going on with the trademark application and it's, supposedly, just a routine thing automakers do.
"As a normal course of business, we routinely renew trademark filings to maintain ownership and control of the trademark," said Ford spokesman Mike Levine. "Ford values the esteemed Excursion name and history."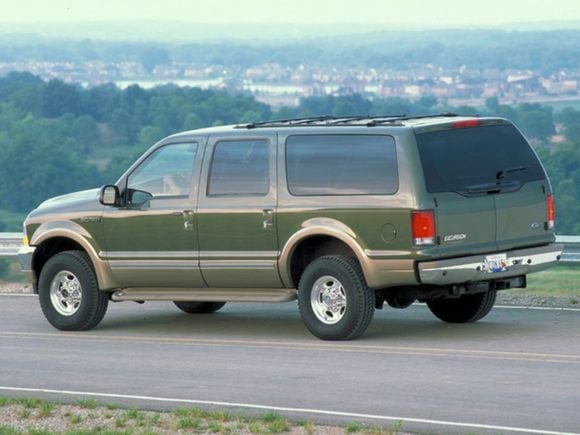 Still, there is a possibility that Ford could revive the Excursion name in a new vehicle, as automakers tend not to talk about future products. It's just a small one. With electric vehicles being focal points for automakers, there's a small chance that Ford could introduce an electric vehicle to compete with the Rivian R1S, Tesla Model X, and GMC Hummer.
The Excursion was introduced in 2000 as the American automaker's largest SUV. It slotted in above the already massive Expedition. But while that SUV used the underpinnings and components from the F-150 pickup truck, the Excursion was a true heavy-duty vehicle, featuring most of its parts from Ford's F-Series Super Duty trucks. The result was essentially a Ford Super Duty pickup with three rows of seating for up to nine people and a large cargo area. The Excursion also had three capable engines, including a diesel V8 and a V10, and immense towing capability.
The massive SUV wasn't on sale for too long. Ford stop selling the Excursion after the 2005 model year. It, like Hummer's SUVs, was ahead of its time, because large, three-row SUVs have suddenly surged in popularity recently. One could only imagine how popular the Excursion would be if it moved slightly upmarket and had been introduced now.
With the F-Series Super Duty truck expected to be redesigned in the near future, we still have a few years to see if Ford is working on reviving the Excursion if it's planning to stick with the same capability and size as the old model. If the model returns as an electric vehicle, it will probably return before the redesigned F-Series Super Duty line.
Options like the Mercedes-Benz GLS-Class, BMW X7, Chevrolet Suburban, Lincoln Navigator, GMC Yukon, Infiniti QX80, Cadillac Escalade, and Ford Expedition are some of the largest SUVs on the market. The majority of large, three-row SUVs have moved to be luxury options, giving consumers plenty of interior space, capable powertrains, and luxurious amenities.