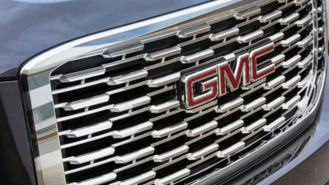 General Motors recently brought the Blazer moniker back in a stylish, mid-size crossover SUV that's joining Chevrolet's lineup in 2019. Now, it looks like GMC will be doing something similar, as they've filed a trademark for the "Envoy" name, which points toward the arrival of a Blazer-based crossover in GMC's lineup.
Besides clearly stating that GMC applied for the patent under the goods and services category that covers "vehicles, namely, sport utility vehicles, engines therefor and structural parts thereof" on December 12, there's not much other information.
For individuals not familiar with the Envoy name, GMC previously sold a mid-size SUV from 1998 to 2009 under the moniker. Regardless of what year you went with, the Envoy was a mid-size offering that was capable of seating up to five. Up until 2002, the Envoy utilized a 4.3-liter V6 making 190 horsepower. When the 2002 model year rolled out, GMC came out with an all-new model that featured a six-cylinder engine producing 270 hp.
It makes the most sense for GMC to poach the same platform that's found on the new Blazer, the Cadillac XT5, and the GMC Acadia. The new Envoy is expected slot above the Terrain and just below the seven-passenger Acadia. It's also possible that GMC would forgo this plan and bring out a subcompact crossover that's smaller than the Terrain. The latter would be an area that GMC is competing in at the moment.
Regardless of what size the rumored Envoy will be, GM did kill off six sedans to focus on crossovers and SUVs, so a new tall-riding vehicle is definitely in the cards.