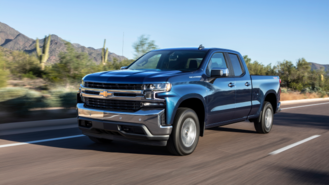 Earlier this week, CleanTechnica released a report alleging General Motors and Tesla were in cahoots to build an electric pickup truck—a vehicle that'd undoubtedly help both automakers as the industry hurtles toward more electrification. The source the publication spoke with—"a source somewhat close to the heart of a big new developing at GM"—said General Motors was developing an electric pickup based around a Tesla powertrain. Obviously, such news ricocheted around the internet with a healthy dose of skepticism thrown in for good measure.
CleanTechnica was quick to dispel rumors the publication's source was Elon Musk. Tesla commented, denying such a partnership while General Motors declined to comment on the report. A collaboration between Tesla and General Motors wouldn't be out of the ordinary. Right now, GM lacks any hard evidence it's developing an electric pickup truck like Ford is doing, which is developing both an electric and hybrid version of the F-150.
During GM's 2018 earnings call last week, GM CEO Mary Barra discussed the possibility of an electric Silverado with a vague non-answer. However, later the same day as CleanTechnica's story, another report from Reuters alleged GM would soon cozy up to Rivian, a Michigan-based EV start-up that unveiled the R1S and R1T—an electrified crossover and pickup truck.
While there may be no hard evidence GM is working on electric Silverado, the automaker is investing in the technology. The automaker has announced a plan to unveiled 20 new EVs by 2023 with a new electric Cadillac crossover spearheading the company's EV future. However, those vehicles will ride on an all-new, scalable electric architecture that isn't conducive to fitting a pickup truck and meeting the needs of today's truck customers.
GM's lack of any evidence it's working on an electric pickup has helped the rumor spread Tesla and GM are working on such a vehicle. In the last few years, as the automotive industry is rapidly changing, GM has begun investing in various companies—ride-sharing, autonomous vehicles, and more. A partnership with an established EV company like Tesla or Rivian doesn't feel that far fetched.
Interested in green cars? See some of the best deals this month