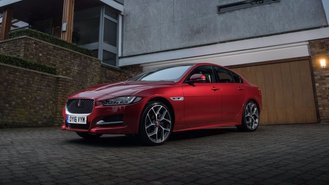 Coming off a successful year, Jaguar is making noticeable revisions to its XE and XF sedans, and the popular new F-Pace SUV this spring.
The big change for all three comes in the form of a new engine, a 2.0-liter turbocharged four-cylinder with 247 horsepower on 25t models of all three cars. It's a new engine for the 2018 XF and F-Pace, while it replaces the previous engine in the XE 25t and adds seven horsepower.
It also lowers the base price of the XF to $48,770, about $1,500 beneath the previous least-expensive model of the BMW 5-Series. For the F-Pace, it gives buyers a new option other than the existing efficient 2.0-liter turbodiesel and powerful 3.0-liter supercharged V6s.
Jaguar has also added Forward Traffic Detection and Forward Vehicle Guidance to the options list on all three models. Both use cameras to aid in driving, with the traffic detection looking ahead on the road to determine road conditions and the vehicle guidance helping you in parking maneuvers. Another feature coming later will be the ability to pay for fuel at Shell gas stations through the touchscreen inside the car. An app in the vehicle will support PayPal and Apple Pay, and later, Android Pay.
The 2018 Jaguar XE, XF and F-Pace arrive in dealerships in May.