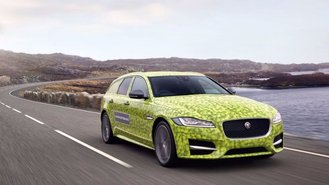 Proving there's some life left in the luxury wagon, the 2018 Jaguar XF Sportbrake will appear next month and is destined for the US for the first time.
The company will introduce the new wagon version of its XF luxury sedan June 14, according to Motor Trend, at a special event. While only disguised versions of the vehicle have been shown so far, it's widely expected the Sportbrake will differ little from its sedan counterpart.
Front and rear-seat spaces should be similar to the XF, as will the dash and controls. Engines should also likely consist of four and six-cylinder options, and with the possibility of the 2.0-liter four-cylinder turbodiesel offered on the sedan. All-wheel-drive will at the very least be an option – the XF's two main rivals in the US, the Mercedes-Benz E400 Wagon and Volvo V90, offer the tech as standard and optional, respectively.
But towards the rear, the XF Sportbrake will have more versatility than the XF sedan, thanks to the wagon bodystyle. Given its more stylized end, the Jaguar probably won't be as commodious as the E400 Wagon, but competitive with the V90.
Whether Americans will flock to a Jaguar wagon remains to be seen, but given the popularity of the brand's first crossover, the F-Pace, it could find fans.
Expect the XF Sportbrake in the US later in 2017 or early in 2018.