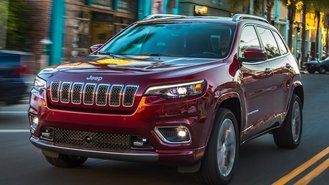 While automakers rush toward SUV- and crossover-heavy lineups, Jeep is flourishing, as it's only sold SUVs for some time now – and well before the SUV craze took off. Looking to capitalize on the shift toward tall, rugged vehicles, Jeep is looking to add four new models by 2022.
Fiat Chrysler Automobiles (FCA), Jeep's parent company, announced plans for new models during an investor presentation on Friday. FCA also confirmed that the Deserthawk and Trackhawk models would be expanded. Those two nameplates would grow to include the adoption of self-driving technology and electrified powertrains.
Going back to the four new models, they include a petite crossover that'll slot into the lineup below the subcompact Renegade. Another is a mid-size offering that'll sit next to a new Grand Cherokee and offer three rows of seating. Two other models, which include a mid-size pickup that's based off the Wrangler and the Wagoneer/Grand Wagoneer, have been confirmed already.
In addition to coming out with new models, Jeep is also looking to expand on its current offerings. The automaker is looking to add multiple nameplates for each of its existing models, which means that more models will have Deserthawk, Trackhawk, and Trailhawk offerings. At the moment, only the Renegade is available in a Deserthawk trim and the Grand Cherokee as a model with a Trackhawk badge.
As if all of this wasn't enough, electrification will also play a large role in Jeep's future. The American automaker plans to add 10 plug-in vehicles and four fully-electric models by 2022. Apparently, the brand will have an electrified variant of every Jeep nameplate in the lineup by 2021.
Self-driving technology will also be added to Jeeps, which could come from FCA's expanding partnership with Waymo. Jeep brand CEO Mike Manley revealed that Level 3 self-driving capability, which would allow the SUVs to handle most of the driving in specific situations, would be offered on vehicles by 2021.
Like other automakers, Jeep will also look into starting its own car sharing and subscription service. While Manley didn't go into detail on the new services, he confirmed that Jeep would launch mobility services and a subscription plan to give drivers access to vehicles in North America. The plan could spread beyond Jeep and include some of FCA's other brands.