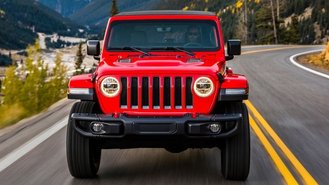 Jeep is raising prices for the redesigned Wrangler despite having first introduced the latest iteration of its iconic SUV less than 3 months ago. The changes will directly affect the prices paid by consumers.
If that wasn't enough, the brand has simultaneously increased its mandatory destination charge, which effectively means the all-new Wrangler is $750 more expensive than it was before.
So which versions are affected? What do the new prices look like? And what should shoppers expect to pay?
Here's what you need to know.
Higher Cost Of Entry
Starting this month, order guides indicate Jeep has raised base prices on all versions of the 2018 Wrangler JL by $500. That includes both the 2-door model and the 4-door Unlimited variants.
Based on what we can see, no other Jeep models appear to be subject to the same price hike. Here's a look at the changes affecting car shoppers in March.
| | | |
| --- | --- | --- |
| Vehicle | Old Price | New Price |
| Wrangler Sport | $26,995 | $27,495 |
| Wrangler Rubicon | $36,995 | $37,495 |
| Wrangler Unlimited Sport | $30,495 | $30,995 |
| Wrangler Unlimited Sahara | $37,345 | $37,845 |
| Wrangler Unlimited Rubicon | $40,495 | $40,995 |
Prices exclude destination
No one likes seeing higher prices, but unfortunately that's not the end of the story.
At the same time, Jeep has increased destination charges to $1,445, which is $250 more than the previous amount of $1,195. All 2018 Jeeps are affected by this change.
As a result, this means the Wrangler now starts $750 higher than it did last month.
The 2-Door Sport has thus far been advertised with a starting price of $26,995 in ads, but its actual price with destination is now $28,940.
Adding the cost of an automatic transmission ($2,000) brings you to $30,940. Think you'll need air conditioning? That'll set you back an extra $1,295 for an MSRP of $32,235. As before, the optional 4-cylinder turbo adds $1,000.
So will this deter prospective buyers from buying a Wrangler, which has received glowing reviews for its many improvements over the previous generation?
Probably not, but the cost of entry just went up.