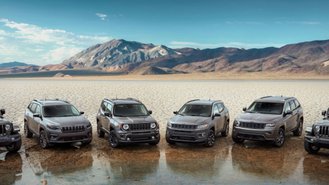 At the same time Jeep announced its lineup of 80th Anniversary Editions, the automaker unveiled the Wave Customer Care Program. The program is being offered on every 2021 model and is available to consumers that purchase or lease one of its rugged vehicles.
The Jeep Wave Customer Care Program brings three years of free basic maintenance at dealerships that includes oil changes and tire rotations. Additional things the program brings include 24/7 support via a phone call or online chat, trip interruption and first-day rental coverage, as well as VIP access to exclusive Jeep brand events.
"As a tribute to our unique, enthusiastic and growing customer base, we are expanding our Jeep Wave customer care program across the entire Jeep vehicle lineup," Morrison added. "We are pleased to reward our loyal customers with Jeep Wave premium service that offers peace of mind and no-charge maintenance for three years."
Jeep's original Wave program was introduced in 2015, with owners of select 2016 models getting the program for free. Two years of membership were offered before requiring a $150 annual fee. Previously, the Wave program included 24/7 customer support, complimentary maintenance, trip interruption and first-day rental coverage, VIP access to Jeep events, discounts on retail brand items, and a unique website experience. For 2016 to 2020 models, owners of the Wrangler, Gladiator, specific Grand Cherokee, and only a few Cherokee, Compass, and Renegade models were eligible to receive Jeep's Wave program for free.
Free car maintenance isn't common and is predominantly found on luxury brands. Chevrolet offers one free oil and oil filter change, Hyundai provides three years of free maintenance, Subaru offers owners with two years of complimentary maintenance, and Toyota provides owners with two years of free maintenance.
Jeep doesn't provide any information on why it's expanding its Wave Customer Care Program to all of its vehicles, but it probably has a lot to do with new competition from the Ford Bronco and the Bronco Sport.