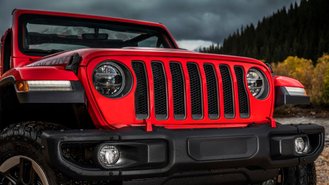 Jeep is jumping into the electrification pool with electrified versions of the Wrangler, Compass, and Renegade. We've known that Jeep has been looking to expand its lineup with a few electrified offerings for some time. What we haven't known, is what the vehicles will be called, until now. For the brand's upcoming plug-in hybrid SUVs, Jeep will use "4xe" badges to separate its electrified models.
The three plug-in hybrid Jeeps will be showcased at this year's Consumer Electronics Show (CES) in Las Vegas. CES being a tech-forward show and Jeep being an off-roading forward brand, attendees will have an opportunity to experience the inside of the Wrangler 4xe in virtual reality. It sounds like a nifty way to show off the upcoming SUV.
Other than knowing that the SUVs will wear 4xe badges, Jeep didn't provide a whole lot of information. The vehicles will be at separate auto shows where the automaker will provide more details about the specific models. The Wrangler 4xe will make its debut at the Geneva Motor Show, the Compass 4xe will be on display at the New York Auto Show, and the Renegade 4xe will be at the Beijing Motor Show.

While the trio will be the first plug-in hybrid models from the automaker, they certainly won't be the last. Jeep plans to put the 4xe badge on future electrified models, which there will be a lot of as the brand wants every single vehicle it sells to be available with an electrified powertrain by 2022. Mild hybrids, hybrids, plug-in hybrids, and fully electric vehicles all fit underneath the electrified umbrella.
Jeep may seem like the last brand to introduce electrified vehicles, but having options that use both gasoline and electricity will allow the automaker to continue to thrive with tightening emissions and fuel economy regulations. For those on the fence about the whole electrification thing, Jeep is promising that the 4xe models will continue to be adept off-roaders and possibly even more so. In Jeep's words, electrification will allow its models to have more torque and provide drivers with immediate engine response. Together, those things will make the SUVs more enjoyable on-road and more capable off-road.
For consumers that aren't interested in electrified vehicles, Jeep's likely to continue selling gasoline-powered SUVs into the future, so if a mild hybrid, hybrid, plug-in hybrid, or electric Jeep doesn't sound appealing, we're sure there will be an internal-combustion on sale. At least for a little while longer.