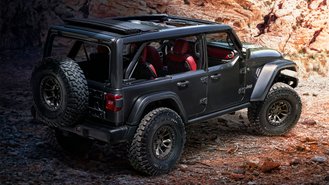 Today was supposed to be all about the new Ford Bronco. After roughly 25 years, Ford is bringing the Bronco nameplate in a rugged off-roader tonight. Jeep, being the current king of the off-roaders, couldn't sit idly by and let Ford bask in the limelight. So, when Jeep unveiled the Wrangler Rubicon 392 Concept that boasts a 6.4-liter Hemi V8 engine, you know it was done on purpose.
That's right, Jeep's latest concept houses a massive V8 engine. The last time Jeep offered its most rugged off-roader with a V8 was back in 1981 with the CJ that was available with a 5.0-liter V8 engine. The 6.4-liter V8 engine in the Wrangler Rubicon 392 Concept that was just unveiled puts out a lot more power than the old 5.0-liter V8 – it's rated at 450 horsepower and 450 pound-feet of torque. Jeep claims the power is good enough for a zero-to-60 mph time of less than five seconds. The V8 is also much more powerful than the current 3.6-liter V6 that produces 285 hp.
In addition to the engine, Jeep has fitted the concept with electric front and rear axle lockers, a 2-inch Mopar lift kit, a full-time two-speed transfer case, Dana 44 axles, 37-inch mud-terrain tires, and an upgraded eight-speed automatic transmission. Special 17-inch wheels, upgraded engine mounts, aluminum monotube Fox shocks, and frame modifications are also included with the SUV.
Despite having a V8 engine, the Wrangler Rubicon 392 Concept is still an off-roader. It boasts 13.25 inches of ground clearance, an approach angle of 51.6 inches, and a departure angle of 40.1 degrees. Sure, you'll be able to race against a few sports cars on the road, but this concept is still capable of tearing up some trails.
As far as the concept's exterior and interior design, it's not that far off of the current Wrangler Rubicon's. The concept is finished in Granite Crystal exterior paint and has bronze exterior touches. Removable side panels, custom half doors, a rugged hood with a scoop, and a power soft-top roof are found on the outside. The interior gets red leather upholstery, gold stitching, and a performance steering wheel.
While the Wrangler Rubicon 392 Concept is an exciting vehicle, it's not the first time we've seen a V8-powered Wrangler. Since 2007, Jeep has shown off quite a few Wrangler concepts with eight-cylinder engines. American Expedition Vehicles (AEV) got tired of waiting for Jeep to introduce a V8-powered Wrangler, so the company introduced a conversion kit for owners of the JK-Wrangler to put either a 5.7-liter V8 or a 6.4-liter V8 into the engine bay.
Still, this is the most production-ready version of a V8-powered Wrangler we've seen straight from Jeep. Whether the American automaker will actually build a production version of the Wrangler Rubicon 392 Concept remains a mystery. This could've been a play to draw some attention away from the upcoming Bronco. Or, a real way for Jeep to gauge whether a Wrangler with a V8 would be popular. If it's the latter, we have no doubt that a 450-hp Wrangler Rubicon straight from Jeep would fly off dealer lots.