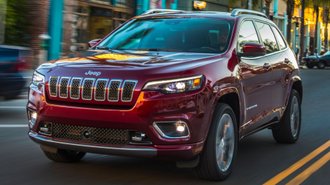 The most expensive Jeep Cherokee is being discontinued for 2021. According to a dealer order guide and confirmation from a Jeep spokesperson, the nearly $40,000 Overland trim will be dropped with no replacement. Sadly, those looking to buy a 2020 Cherokee Overland may find it surprisingly difficult to do so.
Introduced for 2016, the Overland sits above the Limited and adds features like heated/ventilated perforated Nappa leather, gray 19" wheels, an 8.4-inch navigation system, special badging, and more. Current prices starts at $38,490 for the 4x2 and $39,990 for the 4x4 but can approach $43,000 with options.
In its absence, the 4x4 Limited trim will become the most expensive Cherokee you can buy. With an MSRP of $37,025, it will offer many of the same features as options (19" wheels, ventilated seats, 8.4" navigation, etc.). Oddly, finding a 2020 Overland model in stock at a local dealer could prove challenging.
Out of roughly 20,000 Cherokees, a search of national inventory listings reveals only around 10 Overlands. Jeep certainly hasn't made it easy to learn about the trim after quietly taking the vehicle off of its website. Those enamored by some of the Overland's signature features could be disappointed by its limited availability. That said, we think buyers willing to spend up to $43k were probably opting for a Grand Cherokee anyway.
The Grand Cherokee edged out the Wrangler as the brand's bestselling SUV in the first half of 2020. Interestingly, Jeep will continue selling the Grand Cherokee Overland for 2021. However, pricing for the well-equipped 4x4 High Altitude variant with Nappa leather and other premium features will easily exceed $54,000.
High-priced compact SUVs packed with features abound at the moment. For example, competitors like the 2020 Toyota RAV4 Limited and Chevy Equinox Premier can reach up to $40,000 with options. We think most crossover buyers probably won't lament the loss of the Overland given the wide range of available alternatives in the segment.
Editor's Note: We've added information about the Grand Cherokee Overland, which will continue to be offered for 2021.
Explore This Month's Cheapest Lease Deals »
2020 Cherokee Overland pictured