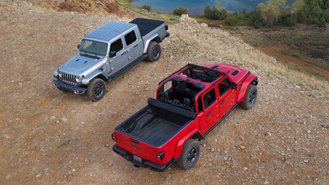 Overall, automakers have a lower new-vehicle inventory than before. According to a report by Cox Automotive, new-vehicle inventory in February 2020 was down roughly 12% from last year. Compared to January, new-vehicle inventory was down 11% percent. There are fewer new vehicles on the lot because sales are stronger than expected. The same is true for pickup trucks, except for the Jeep Gladiator, which continues to have high inventory levels.
The organization's report claims that the Gladiator is one of the few trucks with the highest inventory levels with a days' supply of 124. Only the Ford Ranger, another compact pickup truck, has a higher days' supply of 125. Chevrolet's compact truck, the Colorado, has a much lower inventory level, as the days' supply for the sits at 66.
With high inventory, dealers and Jeep are willing to give consumers a better deal on a new Gladiator. Jeep certainly doesn't want new Gladiators sitting on lots for months, which could explain why the automaker is giving consumers great discounts on new pickup trucks.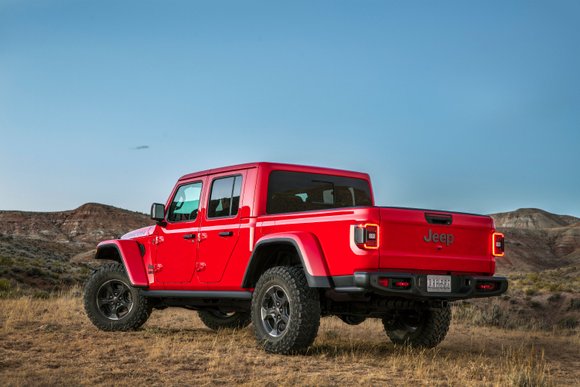 In January, we saw 2020 Gladiators with rebates that resulted in as much as $9,000 in savings in some parts of America. With that kind of savings, the Gladiator is a better buy than the more popular Wrangler SUV. Lease deals for the Gladiator have also become much more affordable. A few months ago, Gladiator Sport models were listed at $259 per month for 36 months with $3,970 due at signing.
One of the reasons that could point to why dealers are having a hard time moving Gladiators is because of the pickup truck's high price tag. The cheapest Gladiator starts at $35,040 (prices include destination), which makes it the most expensive compact SUV in the class. The Ford Ranger costs $25,605, Chevrolet Colorado carries a starting price tag of $22,395, Nissan Frontier is priced at $20,385, and Toyota Tacoma starts at $27,145. Compared to the cheapest option of that bunch, the Frontier, the Gladiator is $14,655 more.
A lot of automakers offer stripped-down versions of their respective pickup trucks with rear-wheel drive, two half-sized rear doors, and small four-cylinder engines. This isn't the case with the Gladiator. The base trim comes with a 3.6-liter V6 engine, four-wheel drive, four full-sized doors, and a well-sized 5-inch touchscreen. For consumers seeking an affordable compact work truck, the Gladiator isn't a budget-friendly option. If you're looking for a lot more capability, the base Ford F-150 starts at $30,440, $4,600 less than the Gladiator. And the F-150 is much better at being a pickup truck.
With compact pickup trucks, pricing is clearly one of the most important aspects for consumers. Other compact pickup trucks may not be as capable when it comes to off-roading or have the same level of customization – removing the doors, top, and windshield – but they're much more affordable. That could explain why nearly every other compact pickup truck in the market continues to grow, while the Gladiator lags behind.