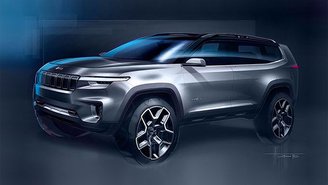 Jeep is quietly circulating preview sketches of a new concept vehicle set to be shown later this month - but the few details that are circulating with them are giving rise to more questions than the drawings can answer.
Motor Authority obtained the sketches, which show a stylish SUV that is instantly recognizable as a Jeep; the design fits well alongside the Grand Cherokee and the new Compass, and the nose features a low-profile version of the iconic seven-slot grille. It appears to be sized somewhere between the Cherokee and Grand Cherokee, although if typical concept-sketch exaggeration is taken into account the stance and departure angles suggest a bias towards highway travel instead of rock crawling.
The concept is allegedly named the Yuntu and may feature a plug-in hybrid driveline, Motor Authority reports. It will be introduced at the upcoming Shanghai Auto Show, reflecting the importance of the Chinese market in Jeep's future market plans. According to MA, that could mean the Yuntu may be exclusive to China, or that it may end up rebadged as something other than a Jeep if offered for sale in other countries. Either way, the addition of a hybrid powertrain to the Jeep line, even in another market, could have big implications for the brand's future in the US.
Answers to at least some of these questions will hopefully be provided soon. The Shanghai Motor Show opens on April 19.