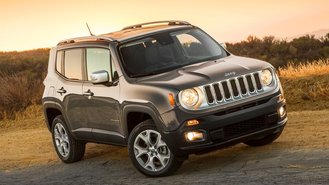 Jeep's sub-Renegade crossover is moving quickly from an idea to a real possibility. Jeep boss Mike Manley first hinted the automaker had interest in a sub-Renegade offering back in January. Manley doubled-down on the possibility of the new product at this year's Geneva International Motor Show. Speaking to Australia's Motoring.com.au, Manley said the business case for the new Jeep looked good.
"I have to say that one has moved on reasonably significantly," Manley said. "You will probably have to wait until our big event in June when we talk about the next five years to see if it's in the plan."
The Renegade is quite large for the crossovers it competes with, giving Jeep the opportunity to slot a smaller offering below it. The new Jeep will likely ride on Fiat Chrysler Automobiles' Mini platform that underpins the Fiat 500 and Panda, and Lancia Ypsilon.
Jeep will likely build the new offering at the company's Pomigliano plant near Naples, Italy where the Fiat currently produces the Panda. But don't take that as a sign that we'll get a Jeep-badged Panda (which we'd fully support, for the record) – assembly of Fiat's popular soft-roader is moving to Poland in the next few years.
The new Jeep will continue to adhere to the brand's rough and rugged ethos. Manley said concerns over the new Jeep offering such capability were no longer an issue.
"That's one piece of the proposal that we are now very comfortable with," he told the Australian publication.
Expect a definitive decision about the sub-Renegade crossover in June when FCA presents its 2018 to 2020 plan.