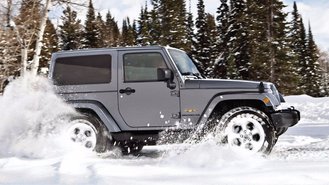 Electrification is the future, and there may be no bigger proof of that than the possibility of a Jeep Wrangler Hybrid.
Yes, even the iconic off-roader could go the gas-electric route when the next-generation Wrangler goes on sale next year, according to Auto Express and their interview with Jeep boss Mike Manley this week at the Geneva Motor Show.
Manley said Jeep parent Fiat Chrysler Automobiles is discussing different options for a hybrid Wrangler, whether that means a smaller electric motor that can't power the vehicle without the assistance of the engine – i.e. a mild hybrid – or a more sophisticated system. One thing that's likely been ruled out is a full-electric model, because of the Wrangler's off-road chops and the prospect of being stranded on a hill without a charging station.
If the hybrid happened, it'd be part of a powertrain revolution for the venerable Wrangler. A turbocharged four-cylinder gas engine, a small turbodiesel option, and an eight-speed automatic transmission are all expected when Jeep introduces the redesigned Wrangler. Beyond these additions, the next Wrangler will get more aerodynamic, all in the name of meeting more stringent fuel economy regulations.
Expect to see the new Wrangler this fall, along with more information about a potential hybrid version in the next few months.