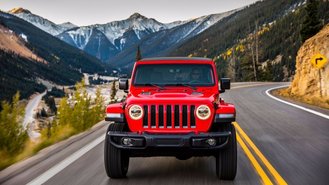 Jeep took the wraps off of the redesigned 2018 Wrangler JL last month at the 2017 Los Angeles Auto Show. While the unveiling of the car was huge for the automaker, Jeep also made a shocking announcement on a future powertrain for the rugged SUV – a plug-in hybrid option.
According to a report by Motor Authority, Jeep announced the new powertrain option at the auto show, but didn't give away a lot of other information. The outlet, a sister site of CarsDirect, claims the plug-in hybrid powertrain will feature the 2.0-liter turbocharged four-cylinder engine and the mild-hybrid system that the automaker announced earlier.
The major question we have, though, after learning of a plug-in hybrid option for the Wrangler is if it will be sold across the United States or only in targeted states.
As Motor Authority points out, Chrysler, which exists under the same Fiat Chrysler Automobiles umbrella as Jeep, offers a plug-in hybrid variant of its Pacifica minivan. If Jeep were to offer a plug-in hybrid powertrain on the Wrangler, the automaker would most likely follow the same procedure Chrysler does to obtain the necessary parts. Battery development for the pack found in the Chrysler Pacifica Hybrid was contracted to supplier LG Chem, claims the outlet. Jeep will probably follow a similar procedure, contracting the development of its battery pack out to a company.
Another major aspect of the plug-in hybrid powertrain that we're interested in learning more about is how Jeep will arrange the system in the Wrangler. One option, as Motor Authority claims, would be to place the battery pack in between the SUV's frame rails, which could require Jeep to modify the Wrangler's four-wheel-drive system. The other possible scenario is to place an electric motor on every corner, giving the SUV usable range and free up some space for batteries.
A plug-in hybrid Wrangler may seem a little farfetched, but Jeep showcased the Yuntu Concept at the Shanghai Auto Show back in April that was fitted with a plug-in hybrid powertrain. While a production version of the Yuntu Concept is expected to only be for the Chinese market, Jeep could use the same tech found in the concept for the Wrangler.