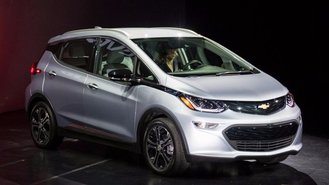 There's no question that Tesla dominates conversation in the world of electric cars—and that it's often fueled by unfiltered comments from CEO Elon Musk. The Californian automaker isn't always able to back up its big talk with action, though, and has had particular trouble delivering cars when it said it would.
This doesn't bode well when the company has 300,000 pre-orders for the new, more wallet-friendly Model 3. Given Tesla's track record, it's not unreasonable to expect that projected production plans won't be met, and that deliveries may be delayed until 2018. If this happens, Kelley Blue Book senior analyst Karl Brauer believes Tesla may lose as many as 10% of its orders, and that those 30,000 buyers will have only one real alternative: the Chevrolet Bolt.
Chevy should be able to pounce on the opportunity because the Bolt will have entered its broad-availability phase, meaning there will be more than enough supply to cover the defecting Model 3 buyers. In fact, Brauer thinks overall Bolt sales could soar as high as 80,000 in its first year of full availability.
Only time will tell if this speculation will become a reality, but Tesla's track record adds to its probability.
If you cannot wait for the 200-plus-mile Bolt to hit showrooms and need an EV now, you're in luck because slowed sales have resulted in great deals on all electrified vehicles. For example, buyers can get the 2016 Nissan LEAF for just $199 per month after paying $1,999 at signing for a 36-month lease. Alternatively, the 2016 VW e-Golf is available on a 36-month lease for just $179 per month after paying $2,349 at signing. Take your pick.