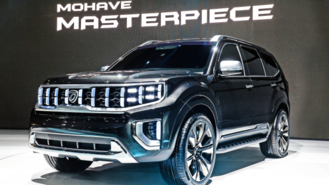 Gas is cheap, large vehicles are hip, and everyone's crazy about SUVs. Kia decided to capitalize on what appears to be the perfect storm for SUVs by unveiling a new concept at the 2019 Seoul Motor Show: the Mohave Masterpiece. And of course, it's an SUV.

Besides giving the world a look at its latest creation, Kia didn't provide any information on the Masterpiece concept beside some low-hanging details. The boxy vehicle is described as being "rugged and robust" and is being used to "hint" at how Kia could style its large SUVs going forward. More specifically, the styling on the Masterpiece could be used for a large off-road SUV.

When Kia says "large" it's being pretty vague. It recently came out with the Telluride, which is a large SUV with seating for up to eight. While the SUV has some off-roading capabilities, if Kia were to go for off-roaders, it would be aiming for things like the Toyota Land Cruiser, Toyota Sequoia TRD Pro, Land Rover Range Rover, Land Rover Discovery, and Nissan Armada.

At first glance, the Masterpiece may not look like it's ready to get dirty, because of all of the shiny elements, but the concept clearly has a generous amount of ground clearance, and what looks like a hefty skid plate at the front. Kia claims the SUV has a "powerful all-wheel drive system" that allows it to go anywhere.

Design wise, the SUV is wearing a new iteration of the brand's tiger nose that's found on everything from the sporty Stinger to the affordable Forte. The grille is much flashier than the one that's currently on Kias and is integrated directly into the headlights.


If we move away from the off-roading aspect of the concept, a larger SUV to slot above the Telluride could be a good thing for Kia. The Ford Expedition, Chevrolet Tahoe, BMW X7, and Mercedes-Benz GLS-Class all prove that consumers still yearn for massive, high-end SUVs.

If Kia were to bring a larger SUV to sit above the Telluride, it could mark the return of the Borrego, which was a body-on-frame SUV that had a towing capacity of up to 7,500 pounds and a four-wheel-drive system. Automakers are constantly bringing back nameplates from the past in the form of crossovers and SUVs (we're looking at you Chevrolet Blazer), so Kia doing something similar makes plenty of business sense.