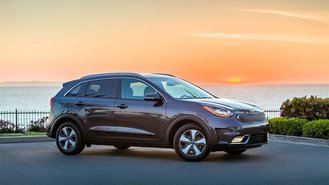 The Consumer Electronics Show in Las Vegas is quickly turning into the go-to venue for automakers looking to introduce cutting-edge technologies and powertrains­. This makes Kia's decision to debut the Niro EV at the show no surprise at all.
The Niro, a compact crossover, hit the market in 2016 as a fuel-sipping hybrid crossover with a plug-in version debuting a year later. Now, Kia is expanding the lineup with an EV. However, details about the Niro EV's powertrain remain unknown.
Kia's other EV, the Ioniq packs a range of 124 miles thanks to its 28-kilowatt-hour battery. The Niro EV could have a larger battery, significantly extending the EV's range, and besting the plug-in hybrid's electric range of just 26 miles.
So far, there are only teaser images available of the new Niro EV. From what little details are visible, it appears there are some changes to the design of the front and rear fascias, along with redesigned headlights. The overall design could change before the Niro EV hits production later this year.
Kia will also discuss its future technological plans. The automaker will have on display three cabin concepts to demonstrate some new technologies, such as the 5G connectivity–the world's first–a new system interface, and advanced driver aids.
The Consumer Electronics Show begins January 8.