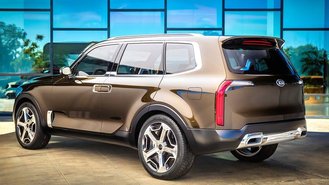 Kia could soon have a full-size SUV in its lineup, President and Chief Design Officer Peter Schreyer told Australia's GoAutos at last week's Detroit Auto Show.
According to the report, we should look to the Telluride concept Kia unveiled last year to get an idea of what the new SUV will look like. But beyond design, it's hard to nail down specifics – the Telluride rode on a stretched Kia Sorento platform and used a 3.5-liter V6 and electric motor to generate 400 horsepower. While those traits seem like a safe bet on Kia's unnamed large SUV, that's purely speculation.
That's partly because there are other options available. Kia is currently working on a diesel option for the Sorento, though it still needs to appease regulators before it can go on sale. Kia is also earning praise for the 3.3-liter, twin-turbocharged V6 in the new Stinger sports sedan, which would seem like a natural fit for a full-size SUV. Kia could also plan for more conventional powertrains, such as a 3.5-liter V6 and possibly a hybrid powertrain like the one in the Telluride concept.
This isn't the first time Kia has tried its hand at a large people mover. In 2008, it introduced the body-on-frame Borrego, an anonymous and disappointing full-size SUV that arrived right in time for record-high gas prices and a crippling financial crisis. It was pulled from the US market at the end of the 2009 model year.