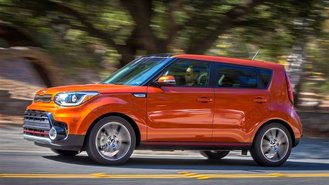 Usually, a recall is completed in a "one-and-done" situation as the baseball saying goes. Ideally, automakers release a recall, fix the affected vehicles, and then all is well until another recall comes up, if one ever does. Unfortunately, that's not the case for the 2014 to 2016 Kia Soul and Soul EV models.
Kia is recalling 342,381 Soul and Soul EVs built between July 21, 2013 and September 30, 2015. The recall, as the National Highway Traffic Safety Administration states, involves a steering pinion plug in the vehicles that may not be properly secured. The plug could allow the pinion gear to become separated from the cars' steering assembly, resulting in the loss of steering.
"The driver will hear a clunking noise from the steering rack while turning the steering wheel," says the report. Kia claims that it is not aware of any injures that have occurred because of the recall.
While the vehicles were previously recalled, the automaker claims that they may not have been properly fixed, resulting in a second recall. Kia will reach out to owners of affected vehicles and plans to start the recall next month, which will see the pinion plug be secured or the steering gear assembly be replaced. The recall will be completed for free.