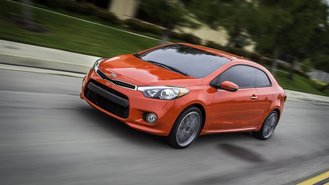 Kia has issued a recall for 508,000 cars from 2010 to 2013 for a faulty control unit that could stop the airbags and seat belt pretensioners from operating properly in the case of an accident. The recall affects Kia Forte and Forte Koup models from 2010 to 2013, Optima sedans from 2011 to 2013, Optima Hybrids from 2011 to 2012, and Sedona minivans from 2011 to 2012.
According to Kia, the airbag control unit in the affected vehicles could be "susceptible to electrical overstress" in the event of a frontal accident. The airbag control unit is in charge of telling the vehicles' airbags and seat belt pretensioners to activate. If damaged, the airbag control unit might not send the right signals over to the necessary components to deploy the airbags or seatbelt pretensioners.
The recall, as The Car Connection points out, originates from a lawsuit that was filed back in 2014. The suit involved a 2012 Kia Forte sedan that was involved in an accident. The vehicle's airbags didn't deploy in the incident. More recently, A Forte Koup was involved in an accident in 2017 where its airbags didn't deploy. After the latest incident, Kia, the National Highway Traffic Safety Administration, and the supplier of the airbag control unit looked into the issue.
Kia hasn't provided any information on what its fix will be for the vehicles, but stated that dealers will be alerted on July 24. Owners will start receiving information on the recall shortly after on July 27. The recall will be taken care of at no cost to owners.