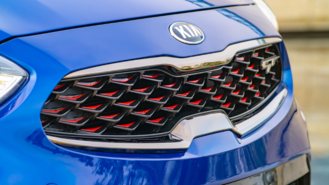 Kia is incorporating sporty features and characteristics from the recently released Stinger into every vehicle in its lineup. When Kia first unveiled the new Forte sedan, the vehicle looked like a pint-sized Stinger. And now, the South Korean brand has come out with a performance-oriented trim called the Forte GT that takes even more inspiration from the Stinger.

To make the GT sportier than the rest of the lineup, the trim gets a turbocharged 1.6-liter inline-four that produces 201 horsepower and 195 pound-feet of torque. Power is routed to the front wheels through either a six-speed manual or a seven-speed dual-clutch automatic transmission. There's a good reason those specs sound familiar. The same engine was in the last-gen Forte 5 SX hatchback and is currently found in the Hyundai Elantra Sport, as well as the Elantra GT hatch.

The motor itself helps the GT create a large gap from other trims, as the rest of the Forte lineup features a 2.0-liter inline-four that's rated to make 147 hp and 132 lb-ft of torque. A more powerful engine isn't the only thing that's different for the GT, as it gets aggressive exterior touches and upgraded suspension.

Those aggressive exterior touches include gloss-black mirrors, a black grille with red accents, a rear spoiler, side skirts, a sport-tuned dual-exhaust system, and 18-inch wheels. Sticky Michelin summer tires will also be offered on the GT as an option. Minor changes have also been made to the interior, as things like a flat-bottom steering wheel, bespoke sport seats, alloy sport pedals, and LED ambient interior lighting are all a part of the trim's standard list of features.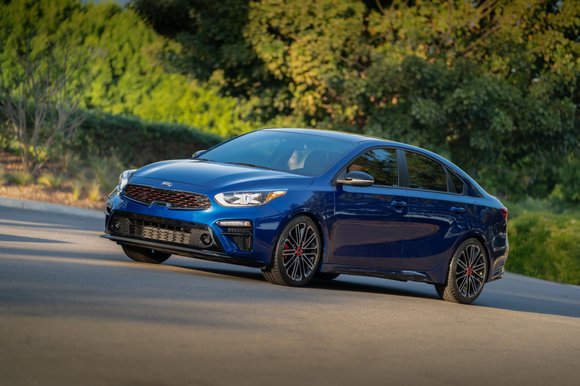 On paper, the new Forte GT will compete against vehicles like the Honda Civic Si and the Elantra Sport – there aren't a lot of sporty, compact sedans out there, which makes Kia's latest addition even more exciting. When, and if, Kia decides to bring out the new hatchback version of the Forte, which we expect to continue to be called the Forte 5, a GT variant of that will compete with the Ford Fiesta ST, Volkswagen GTI, and Hyundai Veloster Turbo.

While pricing for the Forte GT hasn't been announced yet, the entry-level Forte costs $18,585 (including destination). Just like the Stinger, the Forte GT will be available with two packages: GT1 and GT2. The spunky little sedan is slated to go on sale next summer.