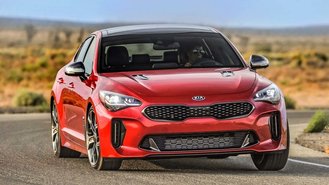 Kia's riding a wave of enthusiasm at the moment, which is spurred on by the new Stinger. But despite coming off of a strong sales year, the South Korean automaker has no plans on coming out with a new sub-compact CUV, pickup truck, or Stinger sub-brand.

Wards Auto spoke with Orth Hedrick, vice president of product planning for Kia Motors America and got some insight into the brand's future plans. Parent company Hyundai has its tiny new Kona, but Kia has no plans of giving its partner some competition in the segment.

"I don't think we see an opportunity there," Hedrick told the outlet in regard to a sub-compact crossover. "We have a lot of coverage in the marketplace now, and that is not a priority at this point. I think we could see more opportunity in C-segment (CUVs) then we would in A- or B-(segment models)."
Hedrick is referring to size classes when mentioning segments – for Kia, its C-segment car is the Forte, while its B-segment vehicle is the Rio. It doesn't currently build an A-segment model.
Kia recently introduced a new sub-compact SUV with the Niro back in 2017. That vehicle is offered in hybrid and plug-in hybrid variants, while the smaller Sportage and larger Sorento give the automaker a well-rounded lineup. Consumers looking for something out of the ordinary and compact can also opt for the Soul and the Soul EV. Adding a new sub-compact CUV to its lineup doesn't make a lot of sense for the brand.

Another body style that doesn't make much sense for Kia is a pickup truck. Hyundai is planning to enter the popular segment with the Santa Cruz, a compact truck concept that first debuted at the 2015 Detroit Auto Show. Kia, though, doesn't have any plans to follow suit.

"It's a big step to take and I think it's a major commitment," said Hedrick. As Wards Auto points out, Hedrick was a product planner at Nissan and notes the Japanese brand's tough time creating a rival that can compete with offerings from Ford, Chevrolet, and Ram. "It's a fierce battle. You have to go into it eyes wide open."
When questioned about Kia's decision to continue pursuing vehicles in segments — subcompact vehicles, minivans, and large cars — that other automakers are exiting, Hedrick stated that the body styles make sense for the automaker when it comes to the U.S. market.