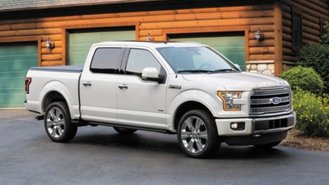 The Insurance Institute for Highway Safety (IIHS) small-overlap crash test measures crash performance when the front left corner of a vehicle collides at 40 mph with another vehicle or a stationary object like a tree. For the most part, manufacturers have brought their cars up to snuff in this test. Pickup trucks, on the other hand, continue to struggle with it, and this was evident in the latest round of testing for 2016 models.
This year marks the first time the IIHS has tested the two most popular cab options—crew cab and extended cab—to get a good feel for how the varying options impact safety. This change was sparked by the 2015 F-150 SuperCab showing a far weaker structure than its crew cab variant. Interestingly, the theme of the extended cab being weaker than the crew-cab model is flip-flopped among the other major pickup manufacturers.
The big news is that the 2016 F-150 SuperCab had a bit of redemption after a poor showing last year as it was the only large extended-cab pickup to get a "Good" overall rating, earning it the Top Safety Pick designation. The extended-cab versions of the Chevy Silverado 1500, GMC Sierra 1500, and Toyota Tundra all received "Acceptable" overall scores, though they did have significant intrusion in the lower-leg and foot area that would likely result in injury. As for the crew-cab versions of these pickups, they all received "Marginal" ratings due to significant intrusion into the survival space of the driver.
The worst-performing of the pickups in this daunting test is the Ram 1500, which received a "Marginal" rating in both cab formats. Within this overall rating are "Poor" marks in structure and lower-leg and foot area, which could both lead to significant bodily injury. The IIHS states, "Drivers in these pickups would need help freeing their legs from the wreckage following a small overlap crash."
The IIHS plans to test the new Honda Ridgeline and Nissan Titan later in 2016.
Buyers looking to pick up the safest pickup of the bunch can snag the 2016 F-150 SuperCab with rebates ranging from $2,500 on the XL trim to $3,750 on the midrange XLT. There is also 0.9 percent APR available for up to 36 months. For those willing to look past its iffy performance in this test, the 2016 Ram 1500 has plenty of great deals too, including 0 percent financing for 60 months combined with bonus cash up to $3,250.