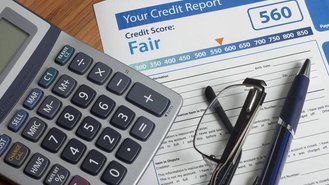 Tax season is almost over. Some loathe it, while some love it. Those who subscribe to the former probably do so because they wait until the last minute to file them. Which leads us into today's news of how the vast majority of car buyers are simply unaware of what goes into their credit score. Is it your growing annual salary? The consistent payment history of your oldest credit card? Your sterling payment track record with the local 24 Hour Fitness?
We're here to help take the confusion out of what impacts your credit score. And why you should know it before setting foot into the dealership and applying for an auto loan.
The Situation
You've spent countless hours researching the car of your dreams, complete with a creamy, perforated Napa leather seats, Arctic Pearl White paint and the highly-sought after tech package--complete with a bright 7-inch high-resolution touch-screen display.
The dealership across town has the exact car in stock at a ridiculously low 0.9% APR, but you gotta hurry because it's Sunday and you want to grab dinner with your better half to help commemorate the momentous occasion. You show up to the dealership with mounds of anticipation and a crisp periwinkle blue check for the down payment. You see the car to confirm the fact that you're not dreaming. Yup, it's there, along with a low APR to help sweeten the deal.
Get quoted for an auto loan here »
You sit down on the other side of the finance manager's oak desk and then it happens--surprise! You don't qualify for the advertised 0.9% APR special because your credit score is not up to snuff. The best the financing company can do is give you a 5.9% APR, which will add roughly $80 per month. Add it all up, and you're looking at paying $3,840 over a typical 4-year loan. And folks, that's for the same exact car.
Why didn't you get approved? Well, there's a growing number of consumers--smart consumers--who just do not know what affects their credit score. In fact, according to a recent TransUnion survey, nearly half of all consumer incorrectly identified rental and cell phone payments as factors which influence their credit scores. The short answer is that they don't.
The Six Credit Score Myths
Myth #1 Your credit score drops if you check your credit.
Not really. Checking your own credit is classified as a "soft inquiry" and does not alter your score. However, "hard inquiries" by finance or credit card companies do slightly lower your score.
Myth #2. Closing old or inactive accounts helps your score.
No, it can hurt your score because it shortens the duration of your credit history. Always keep your oldest credit card, because it's a measure of how long you've actually had credit.
Myth #3 Paying off negative records means that it's gone.
Listen, pencils still come with erasers so most mistakes can be fixed.However, in this instance, it's simply not the case. Late payments or collection records will remain on your credit report for up to seven years.
Myth #4 Co-signing alleviates your responsibility.
Try again. In fact, if you co-sign a loan, the borrower (you) will be held legally responsible for the account, meaning all activity on the joint account will be displayed on both the signor and co signor's credit report. Not just one, but both.
Myth #5 Making on-time payments for all accounts will boost credit scores.
We wish. Not all accounts are privy to a pat on the back from credit agencies. Rental, utility and cell phone on-time payments have no bearing on your score. The unfortunate part is that delinquent payments for these accounts do indeed negatively impact your credit score.
Myth #6 Recent payment behavior can alter your credit score.
And pigs can fly. Credit scores have not yet incorporated trending credit behavior. They simply take a snap shot of your borrowing behavior at a given time. The data in essence, is not dynamic. However, this might change in the near future.
Bad Credit? You Still Have Options.
If you still need a loan and your credit is not quite up to par, there's still a bit of good news. Special Financing is still available on the manufacturer level, which will allow you to stretch out your payments for up to 60 months while still having the ability to secure a low APR. Chrysler and Mitsubishi, among others, offer subprime financing.
The Takeaway
It's important to know that you as a consumer (and prospective car buyer) need to keep a close eye on your credit score. That three-digit number will follow you everywhere and will help lenders determine if you qualify for a low APR rate or for a loan, period. Taking an active role now will help you avoid the needless frustration and stress of securing the vehicle you've worked so hard to obtain. Why risk it?