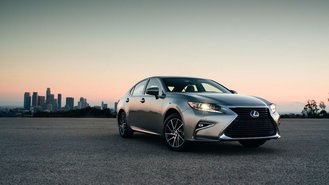 Lexus started with sedans in 1989, but there's a chance the luxury brand could abandon them altogether.
That's based on an interview with a top executive of Toyota, Lexus' parent. Global Branding Chief Tokuo Fukuichi told Automotive News last week that Lexus will have to reinvent their sedans to draw more customers as more and more of the brand's sales come from SUVs – mimicking a trend across the entire auto industry.
The current Lexus sedan lineup is comprised of the compact IS, midsize ES and GS, and the large LS. Already, the 2018 LS sedan shown in January at the Detroit Auto Show takes on a more sporting appearance than its predecessor and an altogether less formal design than rivals such as the BMW 7-Series and Mercedes-Benz S-Class, something Fukuichi implies could be adopted by the smaller Lexus sedans. He even wants to add a wagon to the Lexus lineup, something it hasn't had since the IS 300 SportCross that was sold from 2002 to 2005.
Sedans were once the backbone of Lexus' sales in the US, with the ES long being the most popular model. But the RX midsize crossover made up nearly a third of the brand's US sales in 2016, roughly as much as the entire sedan lineup put together. The GS sedan has dropped so severely in popularity – sales were down by nearly 50 percent in the US last year – that some industry analysts predict it will be dropped by the end of the decade.
All this likely means fans of Lexus' conservative sedans will be left out in the next few years as current models are replaced. But those who are in the market for something more aggressive and stylish than an SUV may have some more choices soon.