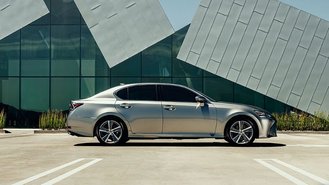 Customers in search of a Lexus GS may need to prepare to do some hunting around.
In parts of the US, some GS models have become particularly scarce. The base GS 200t is almost non-existent on Southern California lots, according to CarsDirect sources, as is the V6-powered GS 350.
Reports also persist among automotive analysts that suggest the line may be discontinued when it comes up for renewal in a couple of years. In March, Lexus was rumored to have suspended development of the new GS that was supposed to appear for 2019, citing a crowded Lexus sedan lineup in a market favoring SUVs. But that's not the case according to the company.
"The GS has definitely not been discontinued," Lexus spokesperson Nancy Hubbell told CarsDirect. "What you're seeing is that we're responding to customer demand. We don't have many GS 200ts, but we have a two-and-a-half-month supply of GS 350s. Beginning Friday, we'll start our Golden Opportunity Sales Event and you'll see lease and APR deals on all our vehicles, including GS."
For those who must have a GS, a sharp eye and careful research online or over the phone may be required to find a particular model. That said, consumers in this segment are absolutely spoiled for choice. Two of the GS' three main competitors in the premium executive sedan market – the Mercedes-Benz E-Class and BMW 5-Series – have recently received extensive and impressive redesigns. The Audi A6 continues to be a popular alternative, while those preferring something less Teutonic should give careful consideration to the deeply impressive Volvo S90 and the latest Genesis G80.