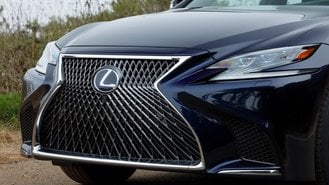 In recent years, Lexus, like many other automakers, has made a push to electrify its vehicles. The all-new 2018 Lexus LS, which is the brand's flagship sedan, has a hybrid variant called the LS 500h. Lexus, though, isn't happy with just offering a hybrid version of the model and is now looking into alternative powertrains for its range-topping sedan.

Australia's GoAuto spoke with Lexus' LS chief engineer Toshio Asahi and got the scoop on the possibility of future powertrains. Asahi told the outlet that the automaker is considering an all-electric, plug-in hybrid, and fuel-cell powertrains for the LS. The thought behind looking into other fuel-efficient powertrains is to be more competitive with rivals like Mercedes-Benz, Jaguar, and Tesla.

At the moment, Lexus offers two powertrain choices for the LS. The standard configuration is a 3.5-liter twin-turbo V6 that makes 415 horsepower. The other option is a hybrid setup that has the same engine, an E-CVT, and a four-speed automatic gearbox for a total of 354 hp. In addition to looking into other powertrains, Asahi told the publication that the automaker was also developing a more powerful version of the hybrid setup.

Lexus and parent company Toyota have been slow to adopt full-electric powertrains for its vehicles, but have been proponents of fuel-cell powered machines for some time. Back in 2015, Lexus showcased the LF-FC concept that was powered by a fuel-cell electric powertrain. Lexus claimed that vehicle, or something similar to it, would be on the road by 2020. A fuel-cell-powered variant of the LS could hold Lexus to its promise and propel it into the future.