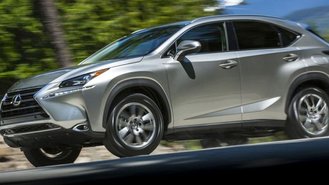 It's August, and summer is in full swing. Speaking of which, there's nothing quite like the sound emitted from the crisp crack of a home run. Lexus seems to have surely hit one with the newest entrant in the popular luxury compact crossover segment with the all-new 2015 Lexus NX 200t. Sales of the model were up 23% last month, hitting an all-time high. Interestingly, the big sales jump was not due to any barn-burning rebates or cash back offers--they are just not offered on this particular model. Nonetheless, sales still spiked in July helping Lexus to accelerate past both BMW and Mercedes-Benz in sales for the first time this year.
Compact Luxury Crossover Side-by-Side »
Lease Deals
So how are they moving so many? One answer could be leasing. That, and the fact that the NX 200t seems to be priced just right. You'll notice that the base price for an NX costs significantly less than its German competition. But that's not to say it's low on content. Quite the contrary, in fact.
The NX 200t not only looks the part, but performs just as well. It produces a solid 235 horsepower from a lively turbocharged 2.0L 4-cylinder, which also helps it to earn 28 mpg on the highway. And that interior. Oh that interior. It's built with the same quality and precision of the brand's best-selling RX 350 while offering up copious amounts creature comforts an and in-car tech. It feels way more expensive than it really is.
And in terms of lease deals, this month, Lexus is offering up a great $369/mo lease special.
All prices include mandatory destination fee.
*For July 2015; Source: Auto News Data Center
**Will replace current 2015 GLK 350 in 2016.
Millennials Gear Up For New Car Purchases »
Lexus No Haggle Pricing?
In a bit of a surprising move, news has broken that Lexus will begin a pilot program where a dozen hand-selected dealerships will offer no-haggle pricing to prospective buyers. The move comes as more and more millennials begin to graduate to more upscale vehicles like the NX 200t. And guess what? They don't like haggling.
The no-haggle initiative will take some time to get used to. Lexus fully expects this, along with a short-term dip in sales. But Lexus believes that customers will eventually get used to the fixed pricing.
But will it spread to the rest of Lexus' 236 dealerships? It's tough to say. But what we do know is that prospective Lexus shoppers feel that the brand's offerings do offer value--regardless of big incentives. And the only evidence you need to look to our the big sales numbers.