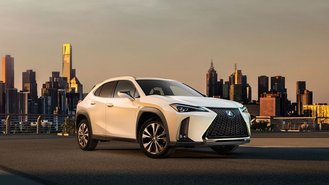 Lexus will debut the compact UX crossover next month at the Geneva Motor Show, Green Car Reports, a sister site to CarsDirect, reports. The automaker debuted a compact crossover concept well over a year ago, teasing a vehicle that would fit below the NX and RX offerings in the luxury automaker's lineup. Now there's a teaser image of the upcoming offering.
The Lexus UX rides on the same platform as the C-HR, so expect the UX's styling to be just as polarizing. What's interesting is the possibility of a hybrid UX crossover in the U.S. Toyota doesn't offer the C-HR hybrid here. However, Lexus did patent both "UX 250" and "UX 250h," the latter of which denotes a hybrid version.
It's not even clear if the UX will make it to US dealerships, but considering how well crossovers are selling, it's likely the Lexus is exploring the idea. The US may only get the gasoline-powered model as Toyota doesn't offer a hybrid C-HR in the country, which is also only sold with front-wheel drive.
If the Lexus UX arrives in the US, it will compete with the Audi Q3, BMW X1, and Mercedes-Benz GLA. Expect more information next month when Lexus reveals the UX in Geneva.