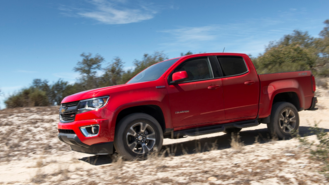 If you thought crossovers, pickups, and SUVs couldn't get more popular, you're wrong. Light trucks, which is a classification for trucks and SUVs that weigh less than 8,500 pounds and have a payload capacity of up to 4,000 pounds, accounted for 69 percent of the automotive market in the U.S. in 2018, reports Automotive News.

While big brands like Toyota, Ford, Nissan, Chevrolet, and Honda all saw sales decrease last year, Jeep saw its figures increase by a whopping 17 percent. Jeep's all-in approach on SUVs has clearly paid off. Subaru also saw its sales numbers rise in 2018.

Overall, light-truck sales grew by 7.7 percent last year, and increased to a total of 11.98 million units sold. That's good news for light trucks, but bad news for cars, as sales for cars decreased by 12 percent. Cars made up 31 percent of car sales in 2018, and accounted for 5.4 million units sold. Those are sharp decreases from 2013 when cars accounted for 50 percent of the market.

Auto News believes that low unemployment numbers, cheap gasoline, and "other positive economic factors" are things that will ensure automotive sales will continue to be strong in 2019. That doesn't mean consumers won't face any challenges, though. Higher interest rates and new-car prices could keep some consumers out of showrooms.

The question of how will President Donald Trump's tariffs affect the industry are still looming, as the outlet claims some analysts believe that consumers may have purchased a new vehicle in 2018 to ensure they received lower prices before potential tariffs on foreign vehicles go into effect.