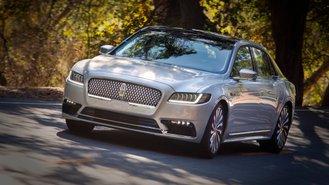 With a name that stretches all the way back to the '40s, one would've thought that the Lincoln Continental was safe from the onslaught of SUVs. That, though, isn't the case. According to Automotive News, workers at Ford's plant in Flat Rock, Michigan were told that production of the luxury sedan would come to an end after this year.
"Lincoln is investing in growth segments and the brand will feature a full portfolio of SUVs, including a fully electric vehicle in the future," Lincoln said in a statement to the outlet. "Lincoln will continue to keep its newest SUVs fresh and we will have more news to share later this year; however, as the full-size premium sedan segment continues to decline in the U.S., we plan to end production of the Lincoln Continental that the end of this year."
After seeing all of the new SUVs Lincoln's been putting out and the company's decision to end production of the MKZ sedan at the beginning of the year, we're not really surprised by the decision. As Auto News points out, the Continental struggled in terms of sales after being launched in 2016 after a 15-year hiatus.
In 2019, Lincoln only sold 6,587 units of the Continental. Compared to other full-size luxury sedans, the Continental falls behind the rest. The Mercedes-Benz S-Class, which has long been the benchmark in the class, accounted for 12,503 units sold last year. Audi sold 2,963 units of the A8, BMW moved 8,823 7-Series sedans, and the Genesis G90 accounted for 2,238 units sold.
This isn't the first time Lincoln has discontinued the Continental. The ninth-gen Continental ran from 1995 to 2002 and was a front-wheel-drive sedan with a V8 engine. The Continental was replaced for the 2002 model year with the MKS, which would be discontinued to make way for the return of the Continental in 2016.
With the death of the Continental, Lincoln's lineup now consists of all SUVs, which mirrors Ford's decision to stop producing passenger cars – except for the Mustang. For Lincoln, the Corsair, Nautilus, Aviator, and Navigator will continue to be on sale. Based on Lincoln's statement to Auto News, it sounds like it will be all-SUV going forward. An electric vehicle with Rivian's technology was expected to be in the pipeline, but that was canceled earlier this April.
Lincoln isn't the only automaker that's discontinuing its large sedan. The Chevrolet Impala, Lexus GS, and Cadillac CT6 are all being discontinued in 2020. More and more consumers are looking for vehicles with higher ride heights, all-wheel drive, and spacious interiors, making SUVs so popular. With Lincoln stating that it's looking into growing segments, we're sure more SUVs are in the works, while sedans are out – at least for the time being.