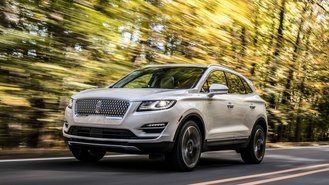 Look closely at Lincoln's current lineup of vehicles, and you'll notice that the American luxury brand has started to stop naming its vehicles with the "MK" structure. For the 2019 model year, the Lincoln MKX was renamed the Nautilus and it looks like the MKC will be called the Corsair when the next-generation of the crossover comes out in 2020.
Dealers in Orlando got a look at the Corsair, along with some other new machines, during a meeting last month, reports Automotive News. While Corsair sounds like a cool name, Ford told sources that the name could change at any moment.
Besides sounding hip and trendy, Corsair also follows Lincoln's pattern of naming vehicles after travel. As Auto News points out, the Corsair nameplate belonged to a World War II fighter plane and a pirate ship. Other vehicles in the automaker's lineup that follows the same principle include the Continental and Navigator. Upcoming SUVs like the Aviator and Nautilus will also conform to the new trend.
The replacement for the MKC is expected to come out in 2020. For 2019, Lincoln is introducing a refreshed MKC which will wear a new corporate face and benefit from some technology upgrades. The current powertrains are expected to hang around for the refreshed model. Those consist of a 245-horsepower 2.0-liter turbocharged four-cylinder engine and a turbocharged 2.3-liter four-cylinder engine that produces 285 hp.
In addition to learning about the Corsair name, dealers reportedly got to see some more upcoming vehicles. The outlet states that those at the meeting saw the next-generation Ford Escape, Explorer, and Mach 1 electric vehicle. There was a preview of the new Lincoln Continental with suicide doors, as well.