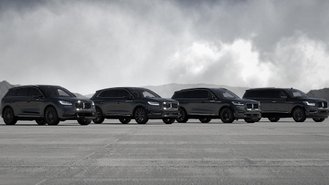 Last fall, Lincoln introduced the Monochromatic Package on the Navigator. Since then, the package has been expanded to be offered on the Nautilus and now, is being offered on the Corsair and Aviator. That means consumers can now have the Monochromatic Package on all of the automaker's SUVs.
Beyond announcing that the Monochromatic Package will now be available across all of Lincoln's high-riding vehicles, the automaker didn't state how much the package would cost or what features it would add. Lincoln, not referring to one specific SUV, claims the Monochromatic Package will bring monochromatic badges, special 20- and 22-inch black wheels, as well as, depending on the SUV, body-colored mirrors, wheel lip moldings, and lower body cladding.
As far as exterior colors are concerned, different SUVs will be available with different paint schemes. Both the 2021 Corsair and 2021 Aviator will be offered in Pristine White, Infinite Black, and Asher Gray. The 2020 Nautilus is only available in Infinite Black. Pristine White, Ceramic Pearl, and Infinite Black are offered on the 2020 Navigator.

On the Navigator, the Monochromatic Package is priced at $3,495 and brings 22-inch black wheels, a body-colored mesh grille, black sideview mirrors, and one of the three exterior paint colors. It's only available on the mid-level Reserve trim. For the Nautilus, the Monochromatic Package costs $1,895 and adds 20-inch wheels, body-color badges, black trim pieces, the Infinite Black paint job, and a body-colored mesh grille. Once again, the package is only offered on the Reserve trim.
We don't know how much Lincoln will charge for the package on the Corsair and Aviator, though we expect pricing to stay around $1,895. According to Lincoln's chief exterior designer, Earl Lucas, the appearance package allows consumers to personalize their SUV and keeps the lineup fresh. The automaker claims both the Aviator and the Corsair have been incredibly popular options in their respective segments, with the Aviator accounting for 10% retail share of the large premium SUV segment and the Corsair growing to account for 8.5% of the small premium SUV class.
Lincoln also offers the Monochromatic Package on the MKZ and the Continental. Unfortunately, both of those vehicles have been discontinued as Lincoln follows in Ford's footsteps to double down on SUVs. With its SUVs doing incredibly well and its sedans lagging behind, expanding the Monochromatic Package to the other two SUVs ensures shoppers remain interested in the vehicles and don't miss the sedans too much.