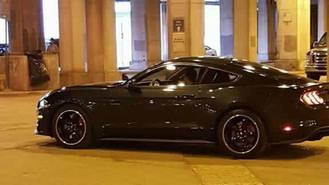 Before 2017 came to an end, photos of a new Ford Mustang Bullitt hit the Internet. The pictures revealed a 2018 Mustang redone in the same way as the pony car Steve McQueen drove in the 1968 film Bullitt. While the photos all but confirmed that Ford was working on a Bullitt Mustang, we didn't know when the car would make an official appearance. Thanks to an eagle-eyed member of Mustang 6G forum, we now know that the 2018 version of the pony car will be auctioned off at Barrett-Jackson's Scottsdale auction on January 19.
According to the forum, one of its members managed to track down Lot #3006, which is listed as being a "Ford Charity Vehicle." While that tidbit of information doesn't exactly point towards a new Bullitt Mustang, it looks like Barrett-Jackson used the silhouette of the original Bullitt Mustang – a 1968 Mustang GT 390 Fastback – as the image of the vehicle being auctioned off.
In addition to the image, another clue can be found in the listing's description, which now reads: "Ford Motor Company will auction a special new Ford Mustang to be sold with 100% of the hammer price benefiting charity." Mustang 6G forum, though, has pictures of the description reading "with 100% of the hammer price benefiting Boys Republic," leading us to believe that Barrett-Jackson has updated the website.
As the forum points out, Boys Republic is a private, non-profit school for troubled youth in Chino Hills, Calif. McQueen attended the school at the age of 16 and even went on to serve as a chairman in 1966 and 1975. It would make sense for all of the proceeds from a new Bullitt Mustang to go to a charity that was an integral part of McQueen's life.
Rumors of a new Bullitt Mustang have been circulating since early last year when sketches of the pony car appeared in one of Ford's official videos. By the end of the year, the vehicle was a surefire thing as photographs from a commercial shoot of the vehicle in Chicago hit the web in December.
The film Bullitt will be turning 50 years old this year, making it the perfect time to unveil a new Bullitt Mustang. Ford may even reveal the vehicle at the North American International Auto Show next week before Barrett-Jackson's auction to build some hype for the machine.