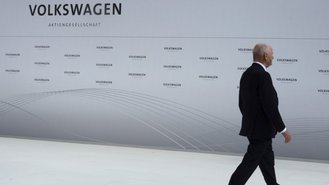 A veritable Game of Thrones took place this weekend, with the resignation of longtime Volkswagen Chairman and CEO Ferdinand Piech reluctantly leaving the post which he had held since 1993. The 22-year span yielded substantial growth for the German automaker, including the wide-ranging expansion of the the individual brands which fall under the VW umbrella including Audi, Bentley, Bugatti, Lamborghini and Porsche.
Moreover, Piech was largely responsible for turning a massive $1.09 billion loss into a $2.8 billion profit over the course of nine years, from 1994 - 2003.
But missteps were also prevalent, the biggest being the introduction of the ill-advised Phaeton luxury sedan which only stayed in production from 2004 - 2006 because of lackluster sales here in the U.S. Turns out Americans didn't really want to buy a large $100k VW sedan.
See the latest in Volkswagen's model lineup »
Slow Adaptation
The reasons are aplenty, but the main theme is VW's model lineup deficiencies. A big lack of crossover and SUVs within the lineup can be partially attributed to the big sales drop. The American consumer's tastes are evolving. Volkswagen failed to adapt, and the sales are an example of what can happen if the collective eyes are taken off the crossover ball.
Will this be good or bad for VW?
Some in the auto industry are saying it's bad while some are saying it's good. What can't be argued is the big drop in sales that VW has seen in the U.S. January 2014 - April 2014 equated to 87,323 models being sold, while the same period for 2015 netted only 70,239 models sold--a 24% drop.
Our take? We think change, although painful, can be good. Especially when we're talking new cars.
New Crossovers, SUVs
However, things are set to improve within the next 2-3 years. Pieche's departure will give Martin Winterkorn the opportunity to shape the brand's direction moving forward. A midsize SUV is already slated for 2017, while the smaller Tiguan crossover will also get a redesign and will utilize the new MQB platform when it goes on sale in 2016.
Phaeton Reboot No More?
And in regards to the Phaeton, do Americans want or need another $100k luxury sedan? It remains to be seen, but with Piech's ouster, we doubt it. You'd be better off opting for a 2015 Mercedes-Benz S550, 2015 BMW 740, 2015 Lexus LS 460 or a 2015 Audi A8.