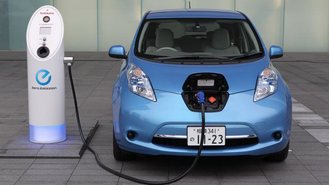 Oil prices are on a steep decline in recent years and there is a good reason behind it. In 2014, oil producers upped production to a whopping 2 million barrels of oil per day more than the market called for, which led to a massive overabundance of oil and left lots of unwanted oil in reserves. Now, Bloomberg speculates that the upcoming influx of more-practical electric cars could cause even less demand for oil, resulting in another oil crash.
According to Bloomberg, electric cars are still little more than a blip on big oil's radar, as it doesn't expect EVs to make up more than one percent of global vehicle sales by 2040. Bloomberg, however, contends that OPEC is overlooking the all-important S-curve—the measurement of the demand for a new technology—which shows that new technology often goes through a low-demand cycle before exploding.
Unfortunately, it is impossible to know whether the S-curve really will apply to electric cars as long-range, affordable electric cars do not exist yet. However, Chevy, Tesla, and Nissan are all working on long-range (200- to 300-mile) electric cars that fall in the $30,000 range, including the Model 3 and the Bolt. What's more, dozens of other automakers and tech giants, like Google and Apple, are tossing billions of dollars in this same segment. Bloomberg speculates that all of this research could make EVs equal or better than gasoline cars as early as 2020.
In addition to these upcoming models, the oil companies need to watch out for up-and-coming Tesla. It has plans to increase production capabilities from 50,000 now to 500,000 in 2020 to support its anticipated sales. If Tesla hits this target and the rest of the major automakers hold steady with their EV sales, we would see EVs displace another 2 million barrels of oil as soon as 2023, leading to another oil crisis that would likely only get worse with time.
While a perfect EV storm could, potentially, cause another permanent oil crisis, there are still many other issues EVs need to overcome for this to become a reality. Things like the lack of fast-charging stations for long trips, current prices, and the lack of supportive infrastructures in developing countries are all examples of issues holding EVs back from causing another collapse of the oil industry.
Only time and research will tell if EVs will result in the next big oil crisis.
While they may not be able to completely replace your gasoline car, there are some great deals available on today's EV leader, the 2016 Nissan LEAF. For example, buyers can get the 2016 LEAF for $199/mo. on a 36 mo. lease after paying $2,399 at signing. Alternatively, buyers can also get 0% APR for up to 72 months, $4,000 in bonus cash, and up to a $7,500 tax credit from the Fed.