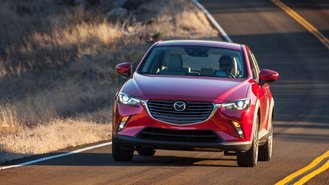 As part of its upgrades for model year 2018, Mazda is making forward collision warning with automatic emergency braking standard on nearly all of its entire range. According to Consumer Reports, only the Mazda MX-5 Miata misses out on the improvements.
There is a disclaimer, though. See, Mazda is only offering low-speed AEB, its Smart City Brake Support system, as standard. Highway-speed automatic braking requires customers of the Mazda3 and CX-3 to step up to the range-topping Grand Touring trim. Mazda6, CX-5, and CX-9 shoppers can get high-speed AEB – Mazda's Smart Brake Support system – standard on the Touring and Grand Touring.
Forward collision warning with automatic emergency braking systems use sensors and cameras to detect an impending crash. First, the system issues audio and visual warnings, but if the driver doesn't respond in time, then AEB automatically applies the brakes to avoid the collision. In Mazda's case, low-speed AEB works at speeds up to 18 miles per hour, which the company claims is when 60 percent of all the rear-end collisions take place. High-speed AEB is far more versatile – Mazda's system operates between 10 and 90 mph.
Forward collision warning and AEB systems are becoming increasingly important to prevent road collisions. According to the IIHS, if every car had forward collision warning with auto emergency braking, it'd prevent 1.9 million accidents per year. Last year, 20 automakers including Mercedes-Benz, BMW, Toyota, Nissan and Mazda signed a voluntary agreement to make AEB standard every trim level of all their cars by 2022.