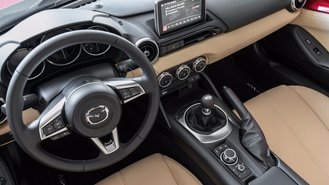 For consumers not up to date on the recent trend in the automotive industry, compact crossovers and SUVs have become some of the most popular vehicles. Automakers looking to get a healthy boost in sales are exploring ways to bring new crossovers to the road, which is something Mazda's looking into.
According to a report by Automotive News, Masamichi Kogai, Mazda's CEO, believes the Japanese automaker's US resurgence will begin in 2019. Things will really shift into gear in 2021, which is when the automaker plans to introduce an all-new crossover just for the US.
Kogai reportedly provided the outlet with some information on the upcoming crossover. The CEO claims that the CUV has the potential to become Mazda's best-selling vehicle and would slot neatly in between the CX-3, CX-5, and CX-9, leading us to believe that the automaker could bring the CX-7 nameplate back. The new vehicle, as Automotive News claims, will be built in the facility that Mazda and Toyota plan to build jointly in the United States.
"We are actually going to introduce a totally new and different type of SUV," said Kogai. "R&D is coordinating with our North American operations on that right now."
Mazda has huge expectations for the vehicle, as the automaker hopes to sell 150,000 units annually, claims the outlet. To put that into perspective, Mazda managed to move 112,235 units of the CX-5 in 2016, which is its best-selling vehicle. Adding another crossover to the lineup, assuming that it does sell well, will help Mazda reach an annual sales figure of 400,000 vehicles, which Kogai expected to happen back in 2013.
"We have big expectations," said Kogai. "This is our declaration that we are going to grow our business in the U.S."
While Mazda's hard at work developing the new crossover, the automaker's coming out with new technology for its vehicles, including a mild form of hybridization, an electric car, and compression ignition, all of which Automotive News claims will come out by 2019. More recently, the automaker introduced cylinder deactivation technology on the CX-5 and the Mazda6.