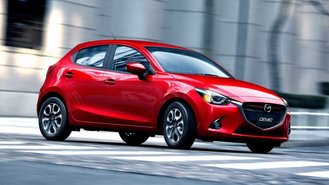 That was fast. This morning, Mazda announced that it won't bring the 2016 Mazda2 to our shores after all because of two reasons: 1) fuel is relatively cheap and 2) supply issues via its factory in Mexico. We feel there's another reason: everyone wants a crossover.
Mazda realizes this, and the fact of the matter is that their brand-new 2016 Mazda CX-3 which is based up on the 2016 Mazda2 will be landing on U.S. soil this summer. It's going to fall just under $20k and really give consumers what they've been pining for all along: a sporty, spacious, fuel-efficient crossover that can seat five without breaking the bank. Makes sense, right?
If you still have your arms folded and lower lip popped out in disgust, let us be the first to tell you that the field is still ripe with some really solid options. Most notably, the upcoming 2016 Scion iA which is--you guess it---based on the 2016 Mazda2. The only difference is that it won't be available as a hatchback, but a sedan. It will share the same chassis, engine and suspension as the Mazda2, however.
Still want more options? Here they are:
2015 Honda Fit | Base MSRP: $16,470 | MPG: 29/37 | Incentives »
2015 Ford Fiesta | Base MSRP: $14,790 | MPG: 28/36 | Incentives »
2015 Fiat 500L | Base MSRP: $21,675 | MPG: 25/33 | Incentives »
2015 Chevrolet Sonic | MSRP: $16,320 | MPG: 25/35 | Incentives »
2015 Toyota Yaris | Base MSRP: $15,670 | MPG: 30/37 | Incentives »
2015 Nissan Versa Note | Base MSRP: $15,005 | MPG: 27/36 | Incentives »
2016 Scion iA | Base MSRP: $15,995 | MPG: N/A
When it's all said and done, don't be surprised if Mazda changes their mind in the near future--especially if gas prices begin to climb again.