Automakers are all looking to lend a helping hand during this difficult time. Volkswagen recently started to allow its dealers to use fleet vehicles as delivery cars and Hyundai extended the warranty period of its cars. Now, it's Mazda's turn to enter the fray with the Essential Car Care Program.
The new program is for active healthcare workers in the U.S. and provides them with a free standard oil change and enhanced cleaning services. This isn't exclusive to just Mazda owners, but is being offered to any active healthcare worker that is currently working in an eligible medical facility. Hospital, urgent care, doctor offices, clinics, nursing homes, public health agencies, and many more are classified as eligible facilities.
While Mazda is allowing healthcare workers to bring vehicles that aren't Mazdas to get an oil change and their vehicles cleaned, there are a few cars that won't be accepted. Exotics, classics, off-road vehicles, and other cars that require more than eight quarts of oil are excluded from the program. Mazda dealers won't be able to service vehicles with special manufacturer requirements either.
The enhanced cleaning service is just what it sounds like – Mazda employees will clean "high-touch interior and exterior surfaces" with Mazda and EPA-approved cleaners. Healthcare workers will only be allowed to get one oil change during the mandated dates and have to show proof of occupation, like an ID badge or a pay stub, to be eligible for the program.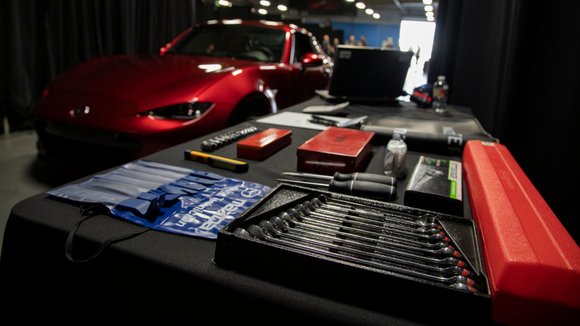 Mazda didn't say how many of its dealers throughout the country are following the program, only stating that the program "is available at participating Mazda dealers throughout the country." Healthcare workers will have to get in touch with their local dealer to see if they're participating in the program.
According to Mazda, the program is an expansion of what a few dealers around the country were already doing. "Mazda dealers prioritize giving back to the communities in which they operate," said Jim McDonald, Mazda's National Dealer Advisory Council Chairman. "In this challenging time, we want to do what we can to support our local healthcare workers. We deeply appreciate all they have done and will continue to do in the fight against COVID-19."
Mazda, like nearly every other automaker, has a few special deals available for shoppers. The Japanese automaker is offering no payments for 90 days on new and used vehicles purchased through Mazda Financial Services. The offer can be combined with rates that are as low as 0.9% for 60 months. The brand's loyalty discount has also been doubled to $1,500. Additionally, healthcare workers are eligible an extra $500 in bonus cash in specific regions of the country.
This is the first time we've seen an automaker do something like this during the coronavirus pandemic, and it's possible that other brands could introduce similar plans down the road. For healthcare workers, this is a fantastic program, as you're getting a free oil change at a time when you probably don't want to worry about spending funds and the time to coordinate with your respective automaker's service area, which could be farther away or busier.
The Essential Car Care Program is available from April 16 to May 4, 2020 and is a great service for healthcare workers to take advantage of.