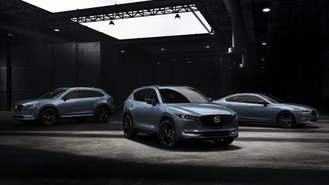 Mazda is introducing a new Carbon Edition for a few of its popular models, including the CX-5, CX-9, and Mazda6 sedan. While one would expect the Carbon Edition to be part of the blacked-out trend, the vehicles get Mazda's gorgeous Polymetal Gray paint scheme, red leather upholstery, black interior and exterior access, and black alloy wheels. Mazda's always done things differently, so it's nice to see the Japanese brand offer consumers with striking vehicles with a little twist on what everyone else is doing.
The Polymetal Gray color was first introduced on the Mazda3 hatchback and has slowly been expanding to other vehicles in the lineup, like the MX-5 Miata. For the CX-5, CX-9, and Mazda6, it looks like going with the Carbon Edition will be the only way for consumers to get the bluish-gray exterior color.
Pricing, details on equipment, and other specifics on what the Carbon Edition brings haven't been announced yet. We don't expect the vehicles to come with performance upgrades, though, as it mostly sounds like an appearance package. Mazda didn't provide any information on why it introduced the Carbon Edition, but Honda, Acura, Lexus, Nissan, Subaru, and Toyota all have special-edition trims or packages for their respective vehicles that bring a unique paint scheme and exterior components. For the most part, they're all-black vehicles with blacked-out trim pieces. Mazda's new Carbon Edition gives consumers a similar choice, but with a slightly different approach.
Mazda recently came out with the 100th Anniversary Special Edition MX-5 Miata that featured a white exterior paint job, a red top, red interior accents, 100th Anniversary logo, and a 100th Anniversary key fob. Last year, Mazda introduced the MX-5 Miata 30th Anniversary Edition with Racing Orange paint, 17-inch Rays wheels, and orange accents. So far, the majority of special editions we've seen from Mazda have been for the sporty MX-5 Miata.
More information on the new Carbon Edition will be announced when the Japanese automaker announces information for its 2021 lineup.