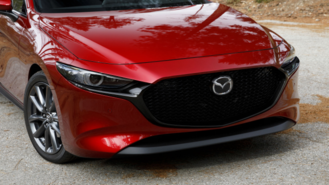 Just like the screens in our pockets, screens in a vehicle—like a large, bright infotainment system—can be just as distracting. Automakers—from mainstream to bespoke—are cramming touchscreens into modern cars. Why? In hopes of creating an infotainment system experience similar to that of today's smartphones. However, Mazda could soon be taking a different approach to in-vehicle controls and screens. A report from Motor Authority suggests Mazda will do away with touchscreens in future vehicles, opting for finely-tuned tactical controls.
The publication spoke with Matthew Valbuena, Mazda North America's lead engineer for HMI and infotainment. He said not only do touchscreens force drivers to take their eyes off the road, but they also apply—unintentionally—torque to the steering wheel, causing the vehicle to drift. The driver then has to realign the vehicle in the lane. To combat such distractions, Mazda introduced the all-new Mazda3 with its new system of tactile controls. Previously, Mazda used a rotary control paired with touchscreen controls.
The move to such controls isn't unheard of; however, it's not the way the industry is moving. Over the last few years, automakers have rolled out new touchscreen infotainment systems, doing everything possible to provide a smartphone-like experience. Apple CarPlay and Android Auto have only sped up the implementation. Often, a touchscreen system does offer redundant buttons, switches, and knobs. Some luxury automakers are integrating voice controls to varying degrees of success.
Apple CarPlay and Android Auto make using physical controls difficult because Apple and Android designed their systems to mimic a smartphone. They rely on touchscreen capabilities. For example, Audi is removing its rotary controller from its vehicles due, in part, because a touchscreen works better with both Android and Apple. A 2017 AAA Foundation for Traffic Safety found touchscreens add a dangerous level of distraction.
Automakers have had varying degrees of success with touchscreen implementation. Each is different, with a unique design and special features, giving each its own benefits and demerits. There is no perfect touchscreen. In contrast, traditional buttons, knobs, and switches tend to perform more predictably and may be safer to use depending on your driving habits.