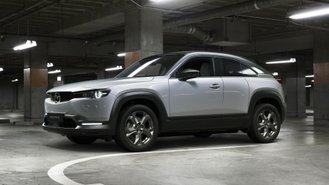 Mazda plans to enter the electric-vehicle scene with its first electric car: the MX-30. While there's no official word on whether the MX-30 will make its way over to the United States, production of the electric crossover officially started in Hiroshima, Japan on May 19. With production underway, Mazda will be able to get the MX-30 to dealers in Europe by this fall.
So far, we know that the MX-30 will come with a 143-horsepower electric motor with a 35.5-kWh lithium-ion battery pack. On the WLTP cycle, the crossover will have a range of approximately 124 miles, primarily making it an urban vehicle. Thanks to DC rapid charging, the MX-30 can get 80% of its charge in roughly 40 minutes. This is all information for MX-30s that will be sold in Europe.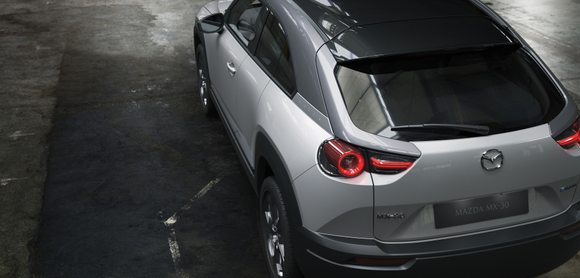 At the moment, Mazda hasn't confirmed or denied whether it will bring the MX-30 to the North American market. Here, the majority of electric vehicles need to have over 200 miles of range to have a fighting chance to compete with the likes of Tesla, Hyundai, and Chevrolet. With the WLTP cycle being a little more generous than the EPA's, the current configuration of the MX-30 would likely have even less range if Mazda were to sell the same configuration in America. With that being said, we don't expect that to happen.
Instead, we're still waiting to hear about the possibility of an MX-30 with a range extender in the form of a gasoline engine. Rumors indicate that Mazda could use a rotary engine for that purpose. With more range, an MX-30 with a range extender could do well in the U.S. Consumers in America are more accepting of hybrids and plug-in hybrids over pure electric vehicles, too.
For the time being, consumers have a few options when it comes to electric crossovers. There's the Hyundai Kona (258 miles), Chevrolet Bolt (259 miles), Kia Soul Electric (243 miles), and Kia Niro Electric (239 miles). For those looking for more luxurious options, there's the Tesla Model X (328 miles), Jaguar I-Pace (234 miles), and Audi e-tron (204 miles).