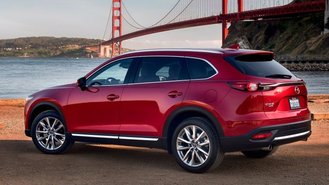 Mazda already has a few markets cornered, including buyers looking for the most non-hybrid fuel economy and those looking for sporty performance across the board. However, Mazda wants more, and a new report from Wards Auto says that the Hiroshima-based automaker is looking to move upmarket.
The report stems from a speech that Russell Wagner, Mazda's VP of marketing in North America, gave at an automotive conference. During this speech, he said, "We are driving ahead to Mazda premium," and continued to say, the brand has intentions of releasing "a premium, pricey model."
Wagner went on to clarify that Mazda is "not trying to go luxury," but he did say that "we are trying to make vehicles people will pay more for."
In a way, this is not surprising. The range-topping 2016 Mazda CX-9 Signature, which runs $44,915 (destination fees included), is a crossover tuned for a premium crowd, thanks to its upscale materials, high-end tech features, and more. Even the base model is far more premium than the previous CX-9, and with this comes a matching increase in base price.
While there is no mention of when Mazda plans to spread its premium wings, but we could see it soon, as Mazda recently announced that it would unveil the new-generation 2017 CX-5 at the L.A. Auto Show. It only makes sense for Mazda to up its premium game in this new-look crossover, given the popularity of these people haulers here in the U.S.
There is also the possibility that this new, premium model is actually a production version of the RX Vision Concept.
We'll continue monitoring this move into more premium cars by Mazda, but for now, the brand has some pretty good deals today. Folks looking for a lease can get a decent deal on the 2016 Mazda3 i Sport, which runs $159 per month for 39 months with $1,999 due at signing. There is also up to $750 in bonus cash available on the new 2016 CX-3.